FUTFS Newsletter 10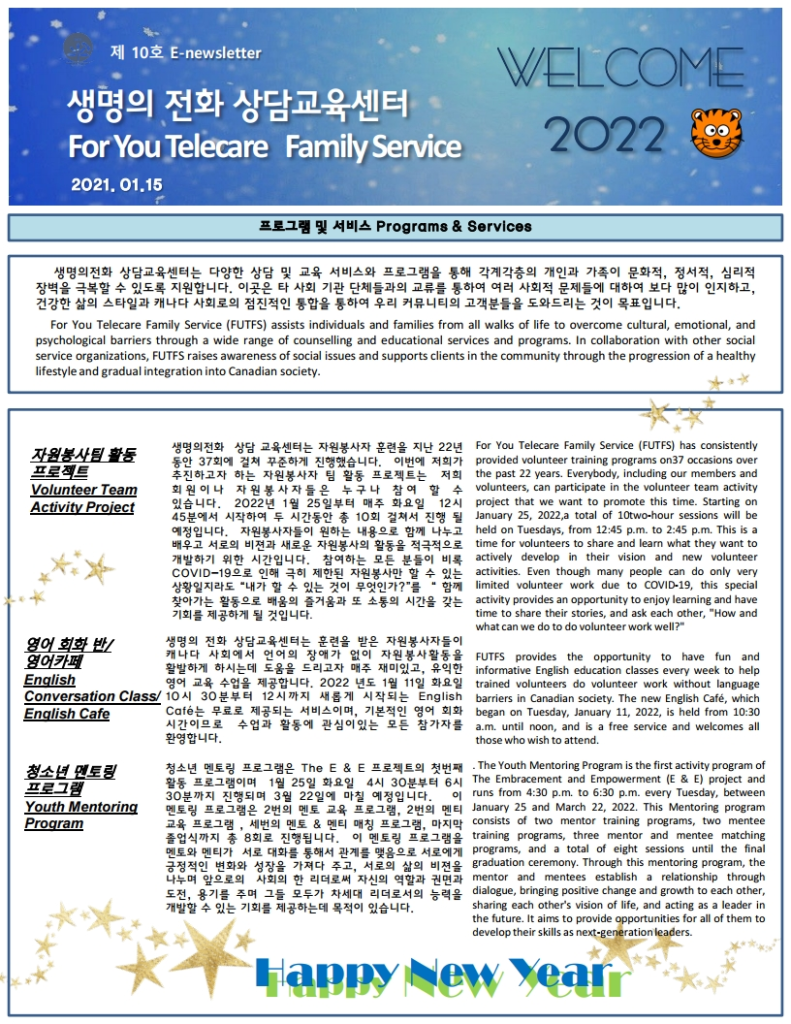 For You Telecare Family Service (FUTFS) assists individuals and families from all walks of life to overcome cultural, emotional, and psychological barriers through a wide range of counselling and educational services and programs. In collaboration with other social service organizations, FUTFS raises awareness of social issues and supports clients in the community through the progression of a healthy lifestyle and gradual integration into Canadian society.
Volunteer Team Activity Project
For You Telecare Family Service (FUTFS) has consistently provided volunteer training programs on37 occasions over the past 22 years. Everybody, including our members and volunteers, can participate in the volunteer team activity project that we want to promote this time. Starting on January 25, 2022,a total of 10two-hour sessions will be held on Tuesdays, from 12:45 p.m. to 2:45 p.m. This is a time for volunteers to share and learn what they want to actively develop in their vision and new volunteer activities. Even though many people can do only very limited volunteer work due to COVID-19, this special activity provides an opportunity to enjoy learning and have time to share their stories, and ask each other, "How and what can we do to do volunteer work well?"
English Conversation Class/ English Cafe
FUTFS provides the opportunity to have fun and informative English education classes every week to help trained volunteers do volunteer work without language barriers in Canadian society. The new English Café, which began on Tuesday, January 11, 2022, is held from 10:30 a.m. until noon, and is a free service and welcomes all those who wish to attend.
Youth Mentoring Program
The Youth Mentoring Program is the first activity program of The Embracement and Empowerment (E & E) project and runs from 4:30 p.m. to 6:30 p.m. every Tuesday, between January 25 and March 22, 2022. This Mentoring program consists of two mentor training programs, two mentee training programs, three mentor and mentee matching programs, and a total of eight sessions until the final graduation ceremony. Through this mentoring program, the mentor and mentees establish a relationship through dialogue, bringing positive change and growth to each other, sharing each other's vision of life, and acting as a leader in the future. It aims to provide opportunities for all of them to develop their skills as next-generation leaders.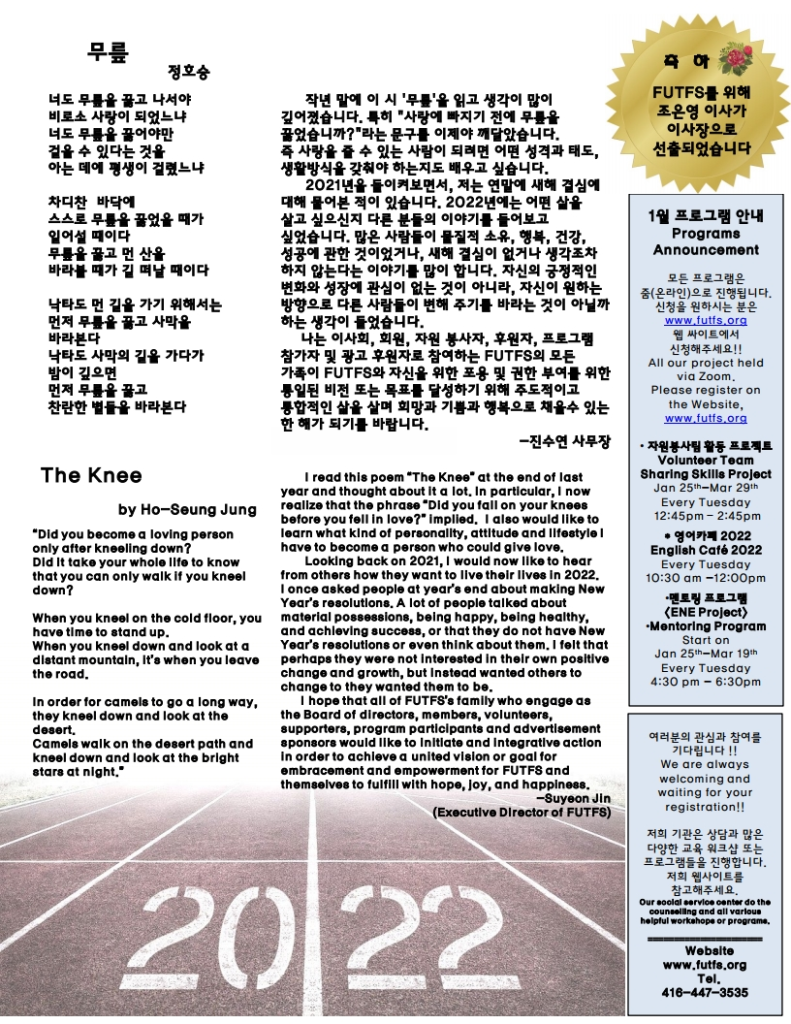 The Knee
by Ho-Seung Jung
"Did you become a loving person only after kneeling down?
Did it take your whole life to know that you can only walk if you kneel down?
When you kneel on the cold floor, you have time to stand up.
When you kneel down and look at a distant mountain, it's when you leave the road.
In order for camels to go a long way, they kneel down and look at the desert.
Camels walk on the desert path and kneel down and look at the bright stars at night."
I read this poem "The Knee" at the end of last year and thought about it a lot. In particular, I now realize that the phrase "Did you fall on your knees before you fell in love?" implied. I also would like to learn what kind of personality, attitude and lifestyle I have to become a person who could give love. Looking back on 2021, I would now like to hear from others how they want to live their lives in 2022. I once asked people at year's end about making New Year's resolutions. A lot of people talked about material possessions, being happy, being healthy, and achieving success, or that they do not have New Year's resolutions or even think about them. I felt that perhaps they were not interested in their own positive change and growth, but instead wanted others to change to they wanted them to be. I hope that all of FUTFS's family who engage as the Board of directors, members, volunteers, supporters, program participants and advertisement sponsors would like to initiate and integrative action in order to achieve a united vision or goal for embracement and empowerment for FUTFS and themselves to fulfill with hope, joy, and happiness.
Suyeon Jin (Executive Director of FUTFS)
---
Welcome to FUTFS, a Toronto Korean Community. FUTFS is a Korean-Canadian community that has been operating in Toronto for over 20 years, providing counseling and outreach services, and providing various educational programs and services for seniors, adults, and youth. In addition to free training, there are also many events. We appreciate your participation.
Please check our free programs and services at 
www.futfs.org