19 Things to Do in Toronto This Weekend with Family 2022
A weekend in Toronto with family is something that almost all families look up to because this is the time they get to spend quality time with their loved ones, and families and also have lots of fun. There are numerous places in Toronto where families can go and have the best time. Here is a list of places where families can visit together over the weekend and have the experience of a lifetime:
 Ontario Legislative Building
During the summer and march break, fun camps and interactive family activities are held at this building which provides a wholesome learning experience, there is no age category as everyone can go. Young kids find statues and the grounds interesting as well.
Here we go on a self-guided tour of the city hall of North America's fourth-largest city to see the 'Metropolis' mural by David Partridge and the displays that depict the history and culture of Toronto. Everyone can come here as there is no age restriction.
Families visiting Toronto island can get on the ferry and take a ride to the land of family fun. There is so much to see and do here. Families can also:
Enjoy a picnic and go on a ride using a bicycle around the Island.
They can have a beach day at Central Island Beach.
Families can also play the Hide and Seek game at The Franklin Children's Garden.
They also have access to the zoo at Far Enough Farm.
The kids can ride miniature roller coasters and go on train rides at Centreville Amusement Park. Everyone can come here because there is no age restriction. It's a really great place for families with kids to visit because the kids get the opportunity to play with different things and also learn new things.
Harbourfront Centre & Toronto's Waterfront
There are so many activities going on at Harbourfront Centre round the year like:
Going on a bike ride and enjoying a relaxing walk along the Queens Quay Promenade.
Go sailing at Natrel Pond in the summer.
Have fun while skating in the winter season.
Families take part in special family activities held throughout the year.
Surveying the parks along the waterfront.
Ripley's Aquarium of Canada
Visiting this place with families is one of the best experiences ever, everyone gets to see all kinds of fishes and all kinds of marine species (over 13,500) from all over the world. For young children, there are playgrounds and crawl tunnels that go underneath the aquarium tanks and that allow the kids to peek into the tanks.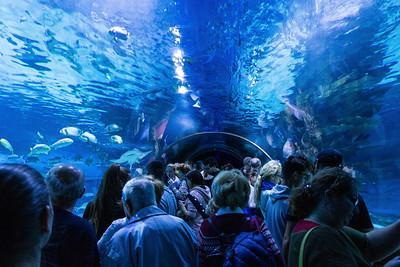 Visiting the railway is a very good experience because families get to see old locomotives, freight cars, and railway structures;  and also enjoy half a kilometre miniature train ride, and be an engineer at the museum.
Feel the power of wind on you as you enjoy the breathtaking views of Lake Ontario and the city of Toronto landscape from 1136 feet above the ground.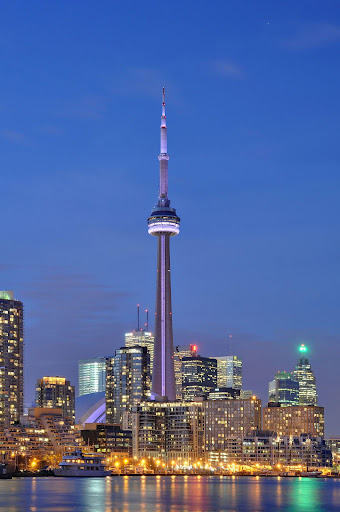 Explore a collection of more than 12,000 textiles from around the world including unique fabrics, ceremonial clothes, carpets, garments and quilts. Try out weaving looms, and other interactive exhibits and learn about the history of clothing in the museum dedicated to Textiles.
This is the best place to visit if you are an aesthete. Plunge into the world of art – Art Gallery of Ontario features unique works of art from all over the world and the largest collection of Canadian artwork. Families enjoy a lot of fun activities throughout the galleries, making their visits entertaining for the younger ones.
This is one of the largest museums in North America, the Royal Ontario Museum is a delight to visit. It has thousands of artifacts ranging from a large collection of fossils, hands-on galleries for children, fine arts, Egyptian mummies, mounted birds and displays of various species of animals.
This is a specialty museum dedicated to ceramics.  Here, families can explore the displays of ceramics from around the world and period porcelain pieces. The museum also holds special programs and clay studio classes for children and adults.
Spanning over 400 acres and famous for its cherry blossoms, High park offers a list of activities for all ages. In summer, people enjoy Shakespeare in the Park by the Canadian Stage Company. The park also features splash pads and wading pools. People also:
Enjoy watching different types of birds and wildlife at Grenadier Pond and also enjoy nature at the park.
Go to the High Park Zoo to see all kinds of animals and also relax in the gardens.
Go on rides in the trackless train and their kids can also play in the Jamie Bell Adventure Playground.
Riverdale Farm is a great place to visit with young children over the weekend, they get to see farm animals and poultry at the Pig and Poultry Barn,  and also learn about chores that happen on a farm, and learn about day-to-day working on a farm.
Beaches of Toronto & Kidstown Water Park
If you want to enjoy a blissful day in the sun and enjoy water play, this is a great place to do that. Visit the only outdoor water park( wet 'n' wild)  in the City of Toronto including a tipping bucket, spray rings, squirting aquatic animals and more that is open from mid-June until the Sunday of Labour day weekend. Have a blast while experiencing water slides, rides and attractions, a mega treehouse play structure for the kids, the Wet'n'Wild Junior mini water park for the little ones, a bowl slide, free-fall speed slides and more adventurous games.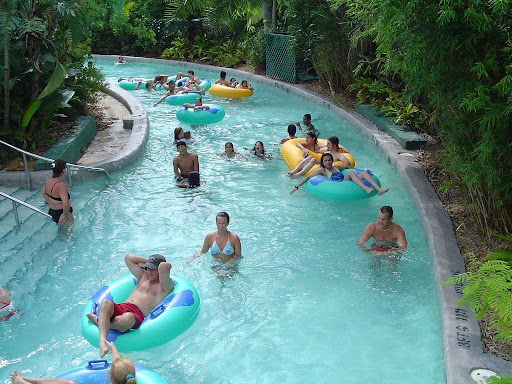 In addition to the exotic animals that number over 5000, the zoo has plenty of rides and other fun attractions like flying through the air on the TundraAir Ride, go on camel and pony rides, and also cooling off at the splash pads.
This is the largest park in Toronto, Rouge park is home to Toronto's only outdoor camping area. Families come here and explore glorious nature where greenery goes on forever, canoe, fish, and have a beach day at Rouge beach.
Festivals & Family Events
Toronto is home to a multitude of world-class family festivals and events, this includes:
Music Festivals in Toronto
Arts & Theatre Festivals in Toronto
Summer & Multi-Cultural Festivals in Toronto.
Family Festivals in Toronto
Film Festivals in Toronto
Food Festivals in Toronto
Ribfest in Toronto
Family fun day event in Toronto
Visiting this indoor park is an exciting experience for families especially the kids because there are trampoline parks, laser quests, and other indoor amusement games for them.
Free Fun Family Activities
Toronto has a list of free family activities from exploring nature trails in the summer to tobogganing in winter. An example is the family fun day event that was held by For You Telecare Family services( this is one of the biggest Korean communities in Toronto) which was a fun-filled event because there were lots of activities to do, games to play, a lot to eat and drink as well, kids also had a fantastic time at the event because they were able to do paintings, fun games too.  To experience this great event, please visit their page at
www.futfs.org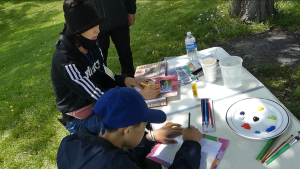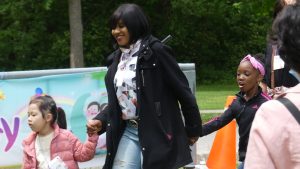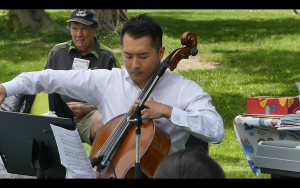 So, if you are looking to have fun in Toronto over the weekend, these and many other places are there to visit and have a lifetime experience.