FUTFS Newsletter 22 (January 2023)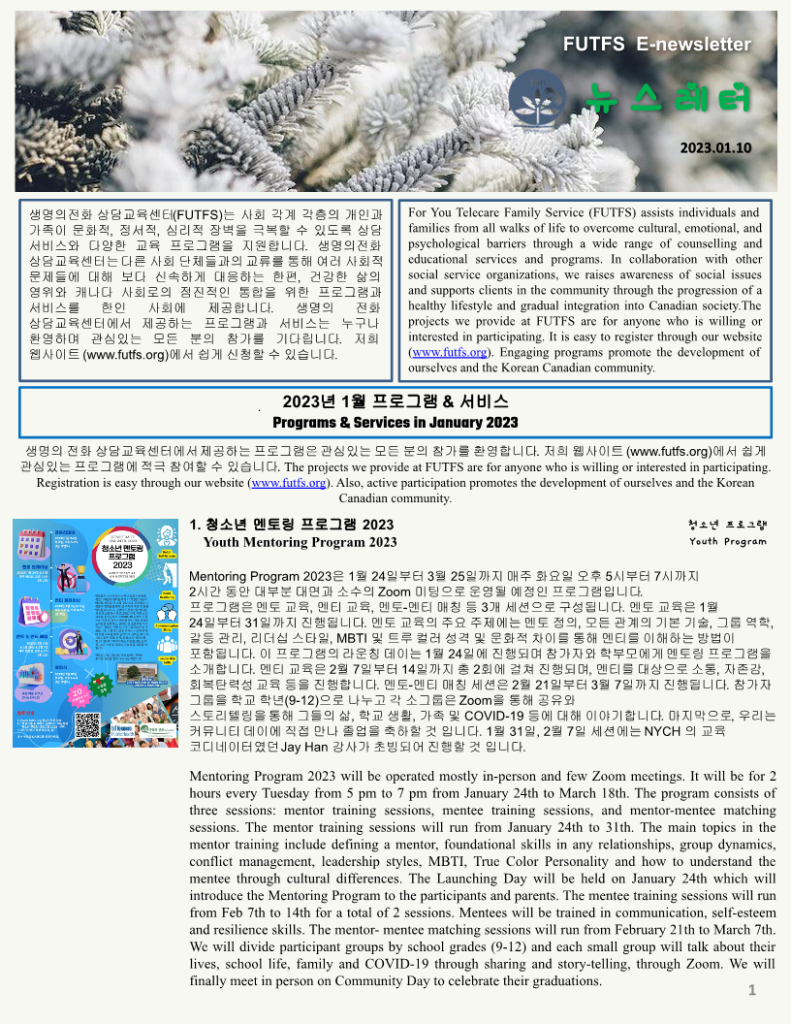 For You Telecare Family Service (FUTFS) assists individuals and families from all walks of life to overcome cultural, emotional, and psychological barriers through a wide range of counselling and educational services and programs. In collaboration with other social service organizations, we raises awareness of social issues and supports clients in the community through the progression of a healthy lifestyle and gradual integration into Canadian society.The projects we provide at FUTFS are for anyone who is willing or interested in participating. It is easy to register through our website (
www.futfs.org
). Engaging programs promote the development of ourselves and the Korean Canadian community.
Programs & Services in January 2023
The projects we provide at FUTFS are for anyone who is willing or interested in participating. Registration is easy through our website (
www.futfs.org
). Also, active participation promotes the development of ourselves and the Korean Canadian community.
Youth Mentoring Program 2023 (Youth Program)
Mentoring Program 2023 will be operated mostly in-person and few Zoom meetings. It will be for 2 hours every Tuesday from 5 pm to 7 pm from January 24th to March 18th. The program consists of three sessions: mentor training sessions, mentee training sessions, and mentor-mentee matching sessions. The mentor training sessions will run from January 24th to 31th. The main topics in the mentor training include defining a mentor, foundational skills in any relationships, group dynamics, conflict management, leadership styles, MBTI, True Color Personality and how to understand the mentee through cultural differences. The Launching Day will be held on January 24th which will introduce the Mentoring Program to the participants and parents. The mentee training sessions will run from Feb 7th to 14th for a total of 2 sessions. Mentees will be trained in communication, self-esteem and resilience skills. The mentor- mentee matching sessions will run from February 21th to March 7th. We will divide participant groups by school grades (9-12) and each small group will talk about their lives, school life, family and COVID-19 through sharing and story-telling, through Zoom. We will finally meet in person on Community Day to celebrate their graduations.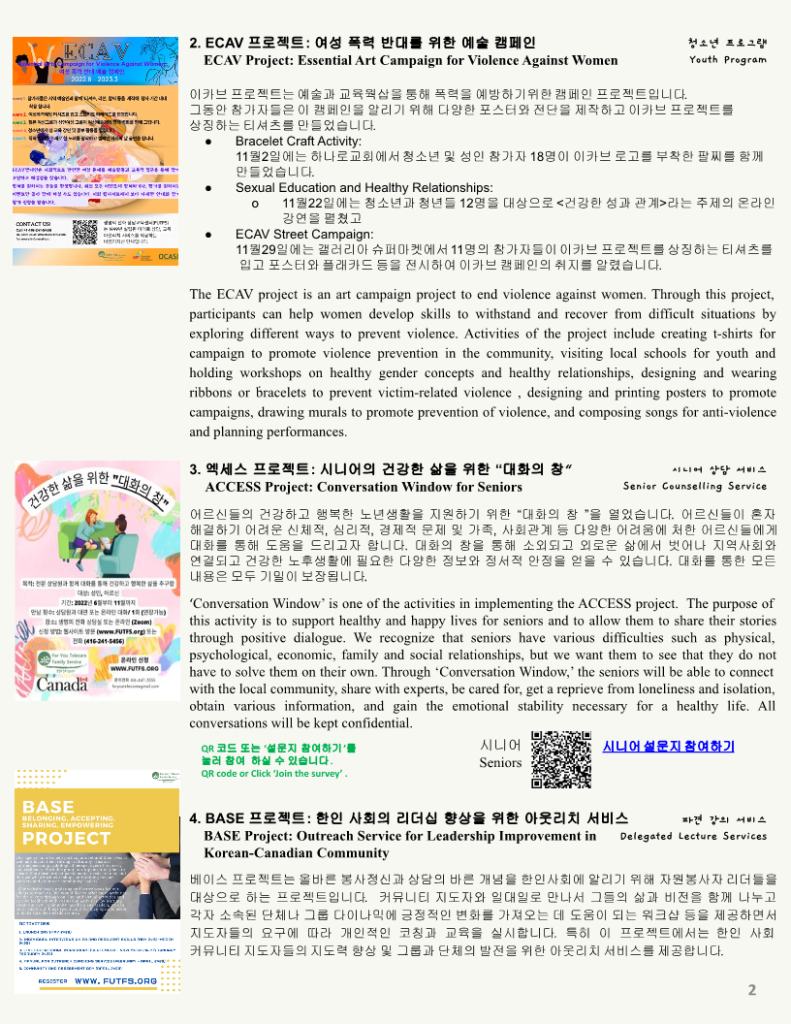 ECAV Project: Essential Art Campaign for Violence Against Women (Youth Program)
The ECAV project is an art campaign project to end violence against women. Through this project, participants can help women develop skills to withstand and recover from difficult situations by exploring different ways to prevent violence. Activities of the project include creating t-shirts for campaign to promote violence prevention in the community, visiting local schools for youth and holding workshops on healthy gender concepts and healthy relationships, designing and wearing ribbons or bracelets to prevent victim-related violence , designing and printing posters to promote campaigns, drawing murals to promote prevention of violence, and composing songs for anti-violence and planning performances.
ACCESS Project: Conversation Window for Seniors (Senior Counselling Service)
'
Conversation Window' is one of the activities in implementing the ACCESS project.  The purpose of this activity is to support healthy and happy lives for seniors and to allow them to share their stories through positive dialogue. We recognize that seniors have various difficulties such as physical, psychological, economic, family and social relationships, but we want them to see that they do not have to solve them on their own. Through 'Conversation Window,' the seniors will be able to connect with the local community, share with experts, be cared for, get a reprieve from loneliness and isolation, obtain various information, and gain the emotional stability necessary for a healthy life. All conversations will be kept confidential. 
BASE Project: Outreach Service for Leadership Improvement in Korean-Canadian Community (Delegated Lecture Services)
FUTFS will meet one-on-one with community leaders to share their lives and visions, provide workshops that are helpful for positive change and growth in the group to which they belong, and provide individual coaching or education at the request of the leaders. In particular, this project provides outreach services for improving the leadership of the Korean-Canadian community leaders and for the development of local groups and organizations.
The English Café (English Program for All Ages)
FUTFS provides the opportunity to have fun through informative English education classes in order to help trained volunteers do volunteer work without language barriers. This class is held every Tuesday from 10:30 a.m. until noon. It is free and anyone who wishes to attend may do so.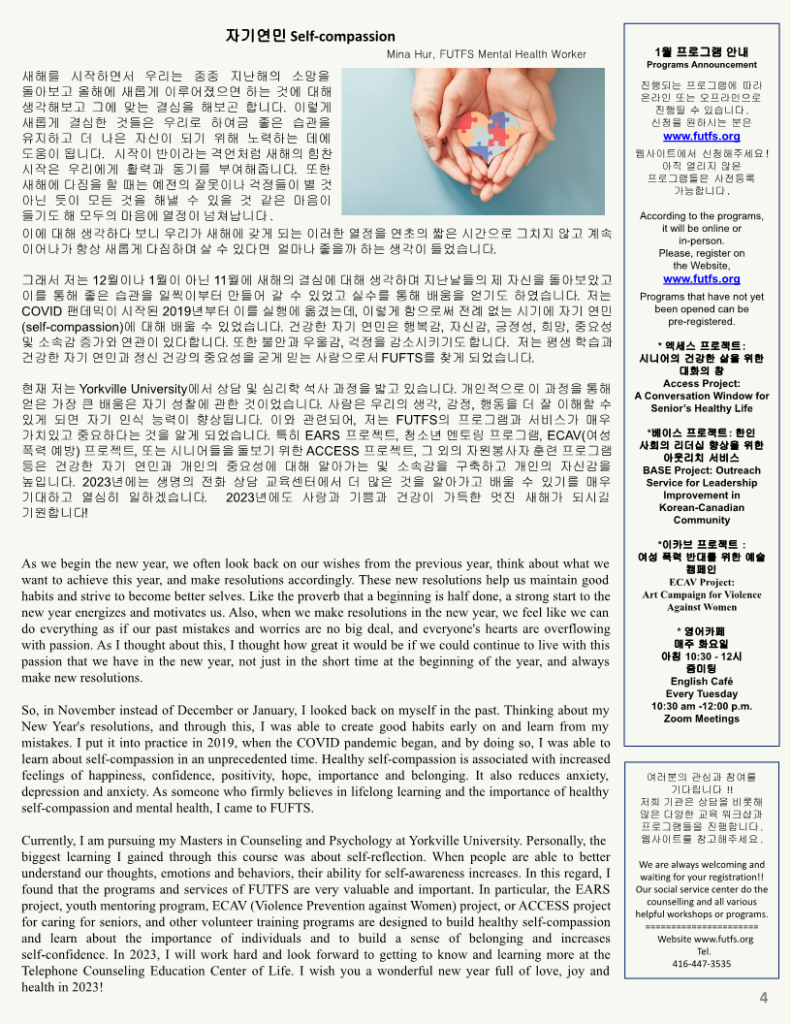 Self-compassion
As we begin the new year, we often look back on our wishes from the previous year, think about what we want to achieve this year, and make resolutions accordingly. These new resolutions help us maintain good habits and strive to become better selves. Like the proverb that a beginning is half done, a strong start to the new year energizes and motivates us. Also, when we make resolutions in the new year, we feel like we can do everything as if our past mistakes and worries are no big deal, and everyone's hearts are overflowing with passion. As I thought about this, I thought how great it would be if we could continue to live with this passion that we have in the new year, not just in the short time at the beginning of the year, and always make new resolutions.
So, in November instead of December or January, I looked back on myself in the past. Thinking about my New Year's resolutions, and through this, I was able to create good habits early on and learn from my mistakes. I put it into practice in 2019, when the COVID pandemic began, and by doing so, I was able to learn about self-compassion in an unprecedented time. Healthy self-compassion is associated with increased feelings of happiness, confidence, positivity, hope, importance and belonging. It also reduces anxiety, depression and anxiety. As someone who firmly believes in lifelong learning and the importance of healthy self-compassion and mental health, I came to FUFTS.
Currently, I am pursuing my Masters in Counseling and Psychology at Yorkville University. Personally, the biggest learning I gained through this course was about self-reflection. When people are able to better understand our thoughts, emotions and behaviors, their ability for self-awareness increases. In this regard, I found that the programs and services of FUTFS are very valuable and important. In particular, the EARS project, youth mentoring program, ECAV (Violence Prevention against Women) project, or ACCESS project for caring for seniors, and other volunteer training programs are designed to build healthy self-compassion and learn about the importance of individuals and to build a sense of belonging and increases self-confidence. In 2023, I will work hard and look forward to getting to know and learning more at the Telephone Counseling Education Center of Life. I wish you a wonderful new year full of love, joy and health in 2023!
Mina Hur, FUTFS Mental Health Worker