FUTFS Newsletter 26 (May 2023)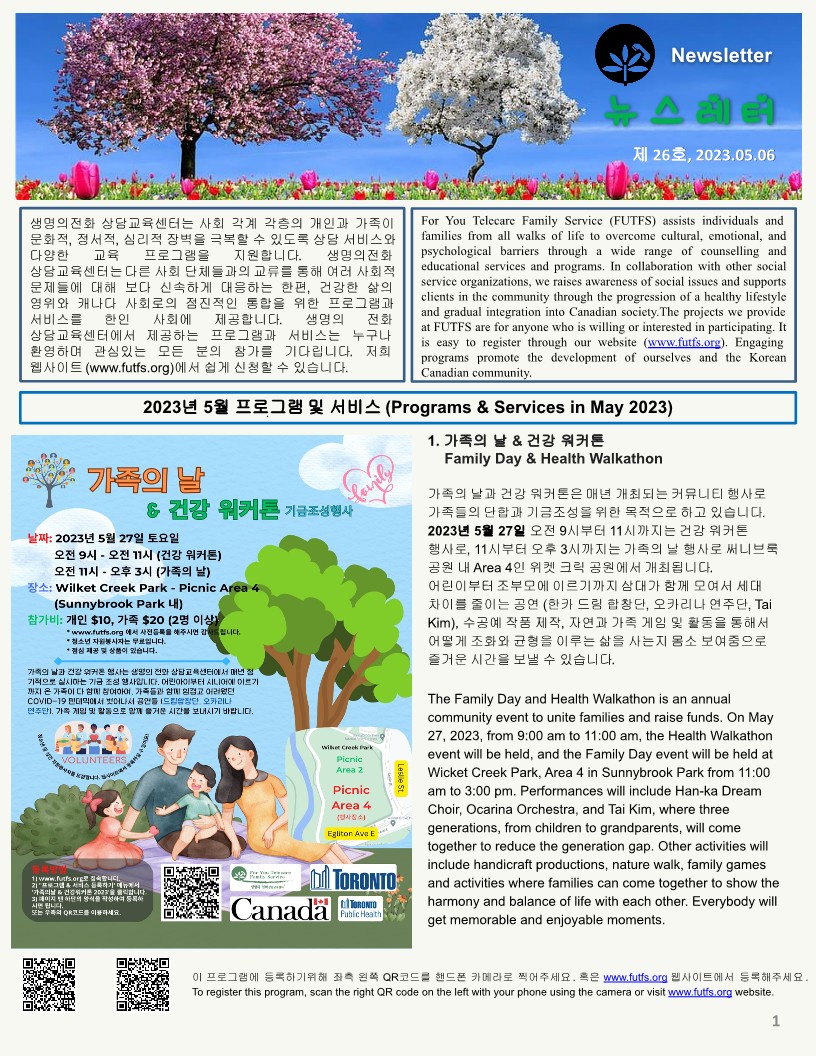 For You Telecare Family Service (FUTFS) assists individuals and families from all walks of life to overcome cultural, emotional, and psychological barriers through a wide range of counselling and educational services and programs. In collaboration with other social service organizations, we raises awareness of social issues and supports clients in the community through the progression of a healthy lifestyle and gradual integration into Canadian society.The projects we provide at FUTFS are for anyone who is willing or interested in participating. It is easy to register through our website (
www.futfs.org
). Engaging programs promote the development of ourselves and the Korean Canadian community.
Programs & Services in May 2023
1. Family Day & Health Walkathon
The Family Day and Health Walkathon is an annual community event to unite families and raise funds. On May 27, 2023, from 9:00 am to 11:00 am, the Health Walkathon event will be held, and the Family Day event will be held at Wicket Creek Park, Area 4 in Sunnybrook Park from 11:00 am to 3:00 pm. Performances will include Han-ka Dream Choir, Ocarina Orchestra, and Tai Kim, where three generations, from children to grandparents, will come together to reduce the generation gap. Other activities will include handicraft productions, nature walk, family games and activities where families can come together to show the harmony and balance of life with each other. Everybody will get memorable and enjoyable moments.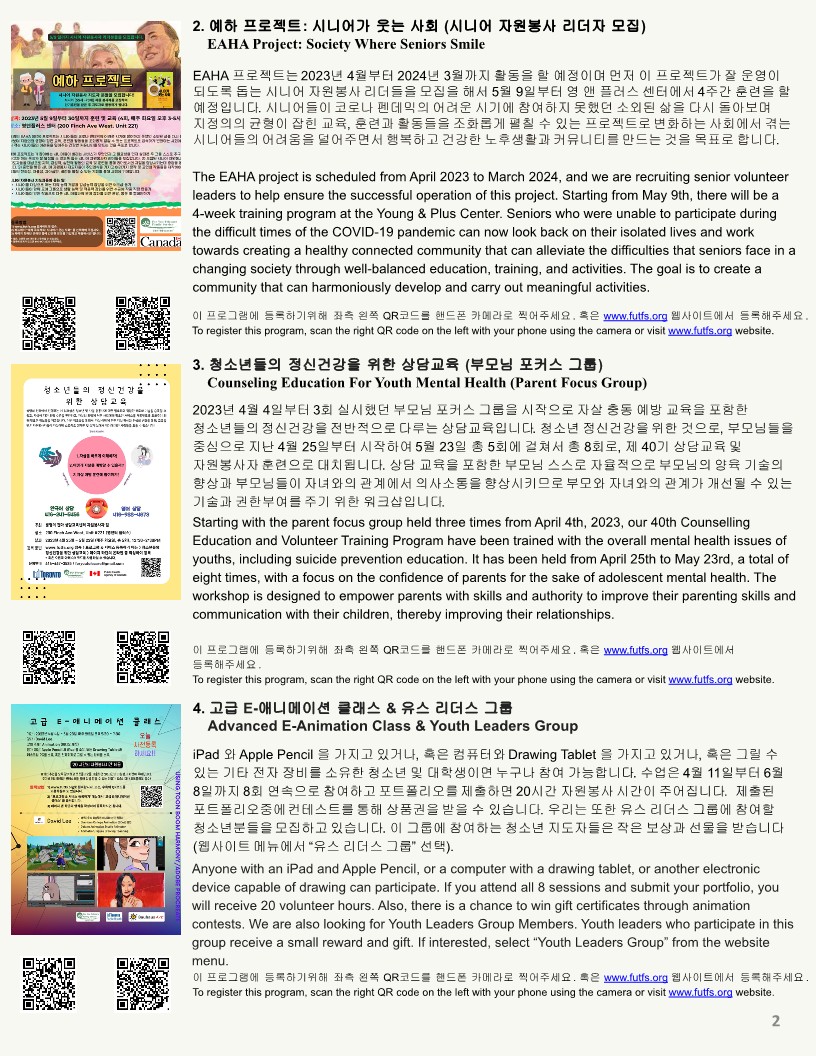 2. EAHA Project: Society Where Seniors Smile
The EAHA project is scheduled from April 2023 to March 2024, and we are recruiting senior volunteer leaders to help ensure the successful operation of this project. Starting from May 9th, there will be a 4-week training program at the Young & Plus Center. Seniors who were unable to participate during the difficult times of the COVID-19 pandemic can now look back on their isolated lives and work towards creating a healthy connected community that can alleviate the difficulties that seniors face in a changing society through well-balanced education, training, and activities. The goal is to create a community that can harmoniously develop and carry out meaningful activities.
3. Counseling Education For Youth Mental Health (Parent Focus Group)
Starting with the parent focus group held three times from April 4th, 2023, our 40th Counselling Education and Volunteer Training Program have been trained with the overall mental health issues of youths, including suicide prevention education. It has been held from April 25th to May 23rd, a total of eight times, with a focus on the confidence of parents for the sake of adolescent mental health. The workshop is designed to empower parents with skills and authority to improve their parenting skills and communication with their children, thereby improving their relationships.
4. Advanced E-Animation Class & Youth Leaders Group
Anyone with an iPad and Apple Pencil, or a computer with a drawing tablet, or another electronic device capable of drawing can participate. If you attend all 8 sessions and submit your portfolio, you will receive 20 volunteer hours. Also, there is a chance to win gift certificates through animation contests. We are also looking for Youth Leaders Group Members. Youth leaders who participate in this group receive a small reward and gift. If interested, select "Youth Leaders Group" from the website menu.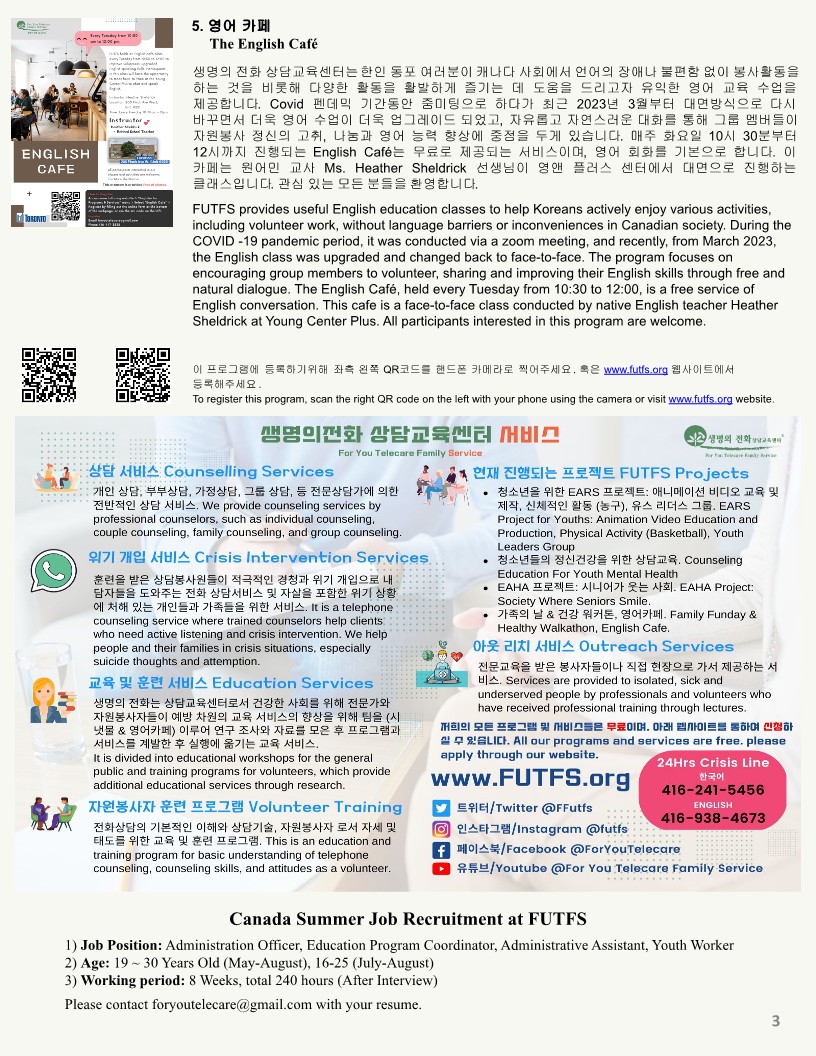 5. The English Café
FUTFS provides useful English education classes to help Koreans actively enjoy various activities, including volunteer work, without language barriers or inconveniences in Canadian society. During the COVID -19 pandemic period, it was conducted via a zoom meeting, and recently, from March 2023, the English class was upgraded and changed back to face-to-face. The program focuses on encouraging group members to volunteer, sharing and improving their English skills through free and natural dialogue. The English Café, held every Tuesday from 10:30 to 12:00, is a free service of English conversation. This cafe is a face-to-face class conducted by native English teacher Heather Sheldrick at Young Center Plus. All participants interested in this program are welcome.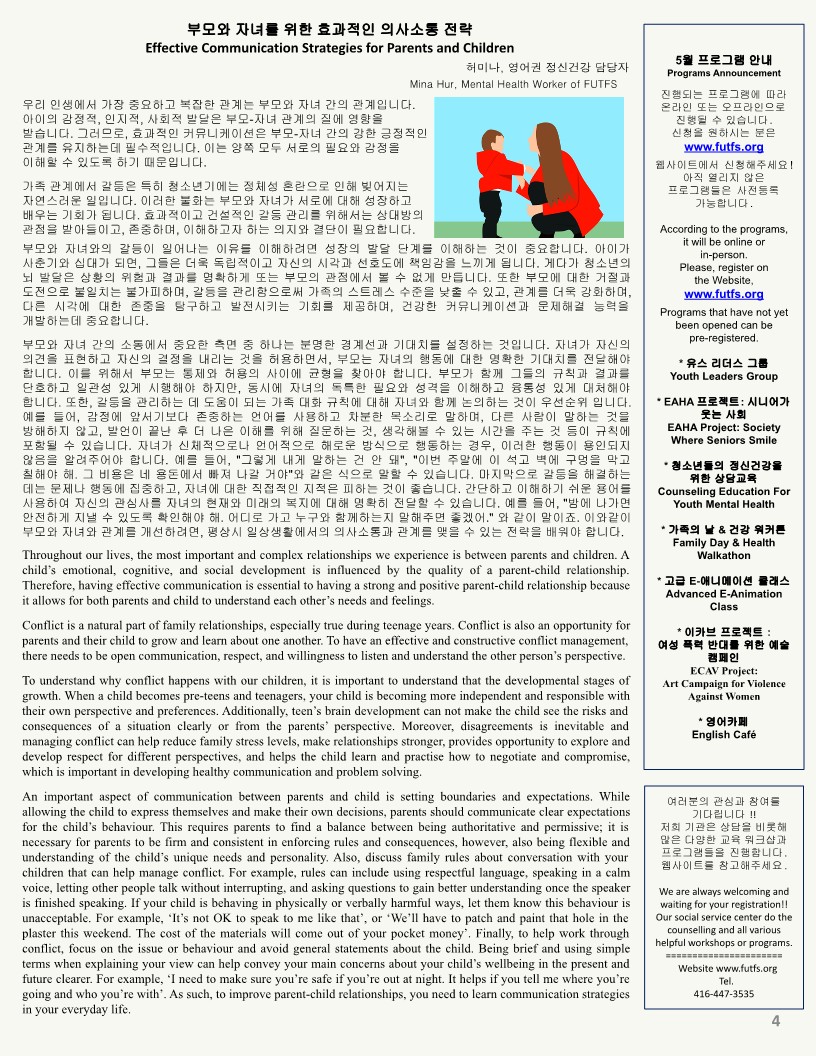 Effective Communication Strategies for Parents and Children
Throughout our lives, the most important and complex relationships we experience is between parents and children. A child's emotional, cognitive, and social development is influenced by the quality of a parent-child relationship. Therefore, having effective communication is essential to having a strong and positive parent-child relationship because it allows for both parents and child to understand each other's needs and feelings.
Conflict is a natural part of family relationships, especially true during teenage years. Conflict is also an opportunity for parents and their child to grow and learn about one another. To have an effective and constructive conflict management, there needs to be open communication, respect, and willingness to listen and understand the other person's perspective. 
To understand why conflict happens with our children, it is important to understand that the developmental stages of growth. When a child becomes pre-teens and teenagers, your child is becoming more independent and responsible with their own perspective and preferences. Additionally, teen's brain development can not make the child see the risks and consequences of a situation clearly or from the parents' perspective. Moreover, disagreements is inevitable and managing conflict can help reduce family stress levels, make relationships stronger, provides opportunity to explore and develop respect for different perspectives, and helps the child learn and practise how to negotiate and compromise, which is important in developing healthy communication and problem solving.
An important aspect of communication between parents and child is setting boundaries and expectations. While allowing the child to express themselves and make their own decisions, parents should communicate clear expectations for the child's behaviour. This requires parents to find a balance between being authoritative and permissive; it is necessary for parents to be firm and consistent in enforcing rules and consequences, however, also being flexible and understanding of the child's unique needs and personality. Also, discuss family rules about conversation with your children that can help manage conflict. For example, rules can include using respectful language, speaking in a calm voice, letting other people talk without interrupting, and asking questions to gain better understanding once the speaker is finished speaking. If your child is behaving in physically or verbally harmful ways, let them know this behaviour is unacceptable. For example, 'It's not OK to speak to me like that', or 'We'll have to patch and paint that hole in the plaster this weekend. The cost of the materials will come out of your pocket money'. Finally, to help work through conflict, focus on the issue or behaviour and avoid general statements about the child. Being brief and using simple terms when explaining your view can help convey your main concerns about your child's wellbeing in the present and future clearer. For example, 'I need to make sure you're safe if you're out at night. It helps if you tell me where you're going and who you're with'. As such, to improve parent-child relationships, you need to learn communication strategies in your everyday life.
Mina Hur, Mental Health Worker of FUTFS