FUTFS Newsletter 15 (June 2022)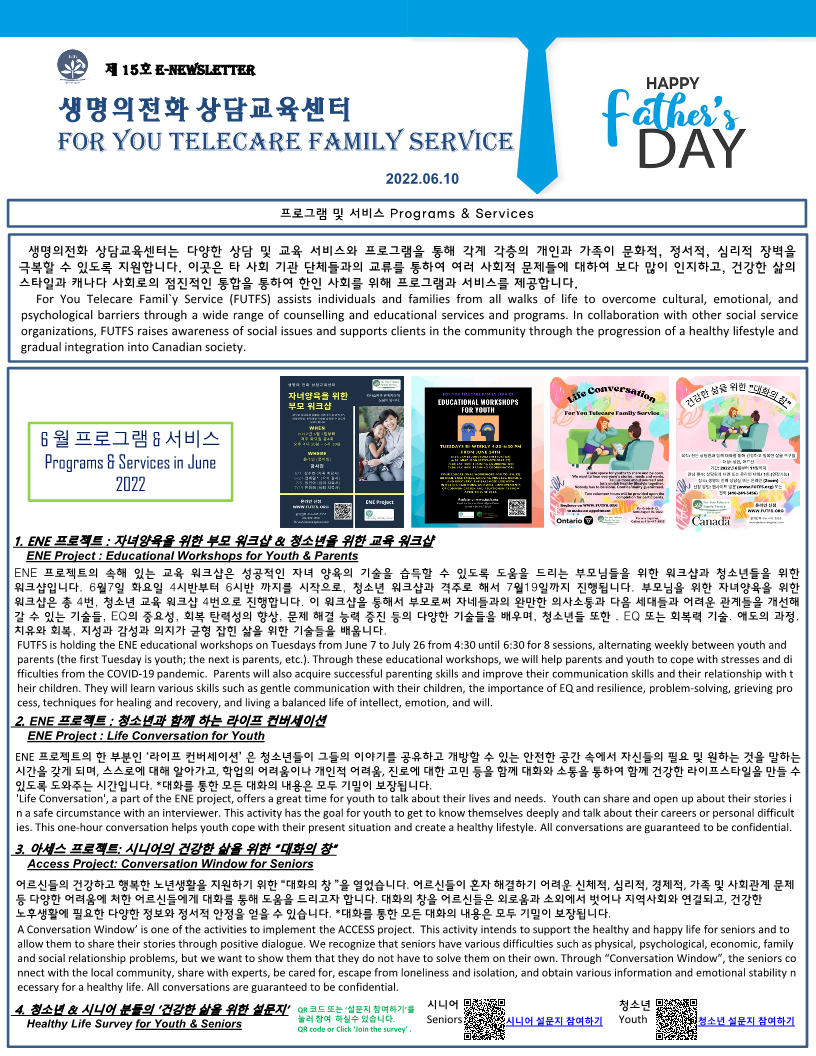 For You Telecare Famil`y Service (FUTFS) assists individuals and families from all walks of life to overcome cultural, emotional, and psychological barriers through a wide range of counselling and educational services and programs. In collaboration with other social service organizations, FUTFS raises awareness of social issues and supports clients in the community through the progression of a healthy lifestyle and gradual integration into Canadian society.
Programs & Services in June 2022
ENE Project : Educational Workshops for Youth & Parents
FUTFS is holding the ENE educational workshops on Tuesdays from June 7 to July 26 from 4:30 until 6:30 for 8 sessions, alternating weekly between youth and parents (the first Tuesday is youth; the next is parents, etc.). Through these educational workshops, we will help parents and youth to cope with stresses and difficulties from the COVID-19 pandemic.  Parents will also acquire successful parenting skills and improve their communication skills and their relationship with their children. They will learn various skills such as gentle communication with their children, the importance of EQ and resilience, problem-solving, grieving process, techniques for healing and recovery, and living a balanced life of intellect, emotion, and will.
ENE Project :
Life Conversation for Youth
'Life Conversation', a part of the ENE project, offers a great time for youth to talk about their lives and needs.  Youth can share and open up about their stories in a safe circumstance with an interviewer. This activity has the goal for youth to get to know themselves deeply and talk about their careers or personal difficulties. This one-hour conversation helps youth cope with their present situation and create a healthy lifestyle. All conversations are guaranteed to be confidential.
Access Project:
Conversation Window for Seniors
A Conversation Window' is one of the activities to implement the ACCESS project.  This activity intends to support the healthy and happy life for seniors and to allow them to share their stories through positive dialogue. We recognize that seniors have various difficulties such as physical, psychological, economic, family and social relationship problems, but we want to show them that they do not have to solve them on their own. Through "Conversation Window", the seniors connect with the local community, share with experts, be cared for, escape from loneliness and isolation, and obtain various information and emotional stability necessary for a healthy life. All conversations are guaranteed to be confidential.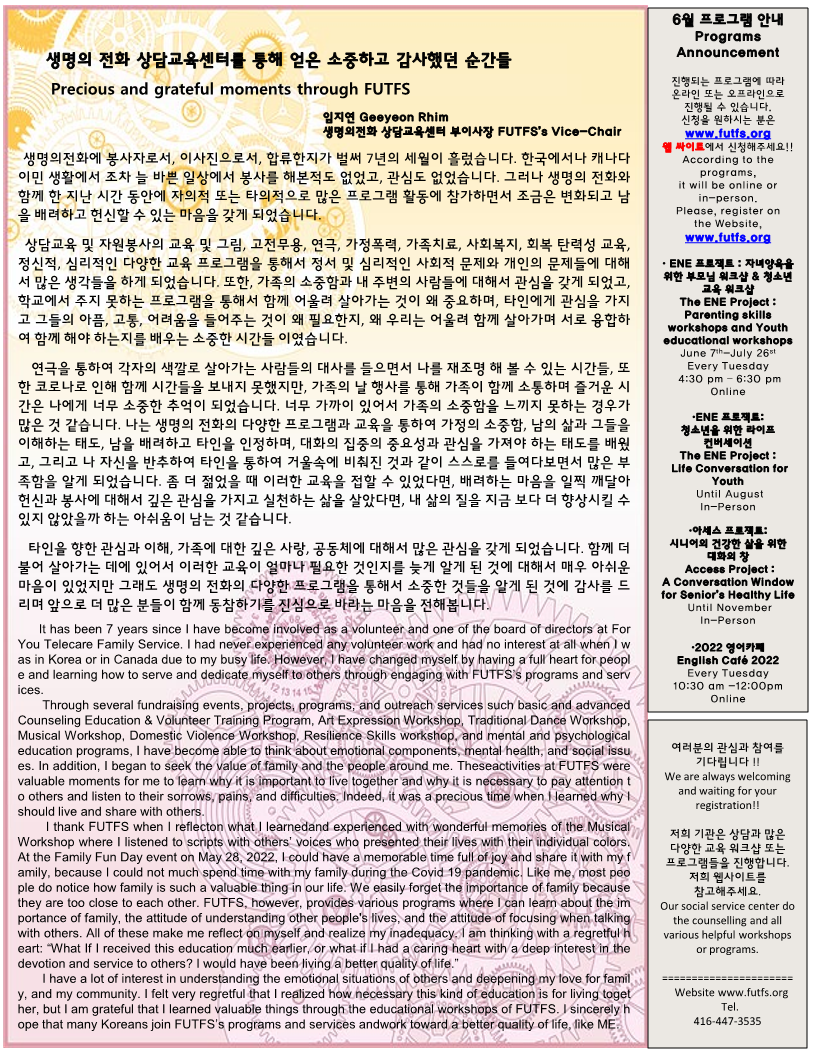 Precious and grateful moments through FUTFS
It has been 7 years since I have become involved as a volunteer and one of the board of directors at For You Telecare Family Service. I had never experienced any volunteer work and had no interest at all when I was in Korea or in Canada due to my busy life. However, I have changed myself by having a full heart for people and learning how to serve and dedicate myself to others through engaging with FUTFS's programs and services.
Through several fundraising events, projects, programs, and outreach services such basic and advanced Counseling Education & Volunteer Training Program, Art Expression Workshop, Traditional Dance Workshop, Musical Workshop, Domestic Violence Workshop, Resilience Skills workshop, and mental and psychological education programs, I have become able to think about emotional components, mental health, and social issues. In addition, I began to seek the value of family and the people around me. Theseactivities at FUTFS were valuable moments for me to learn why it is important to live together and why it is necessary to pay attention to others and listen to their sorrows, pains, and difficulties. Indeed, it was a precious time when I learned why I should live and share with others.
I thank FUTFS when I reflecton what I learnedand experienced with wonderful memories of the Musical Workshop where I listened to scripts with others' voices who presented their lives with their individual colors. At the Family Fun Day event on May 28, 2022, I could have a memorable time full of joy and share it with my family, because I could not much spend time with my family during the Covid 19 pandemic. Like me, most people do notice how family is such a valuable thing in our life. We easily forget the importance of family because they are too close to each other. FUTFS, however, provides various programs where I can learn about the importance of family, the attitude of understanding other people's lives, and the attitude of focusing when talking with others. All of these make me reflect on myself and realize my inadequacy. I am thinking with a regretful heart: "What If I received this education much earlier, or what if I had a caring heart with a deep interest in the devotion and service to others? I would have been living a better quality of life."
I have a lot of interest in understanding the emotional situations of others and deepening my love for family, and my community. I felt very regretful that I realized how necessary this kind of education is for living together, but I am grateful that I learned valuable things through the educational workshops of FUTFS. I sincerely hope that many Koreans join FUTFS's programs and services andwork toward a better quality of life, like ME.
Geeyeon
Rhim (FUTFS's Vice-Chair)