FUTFS Newsletter 1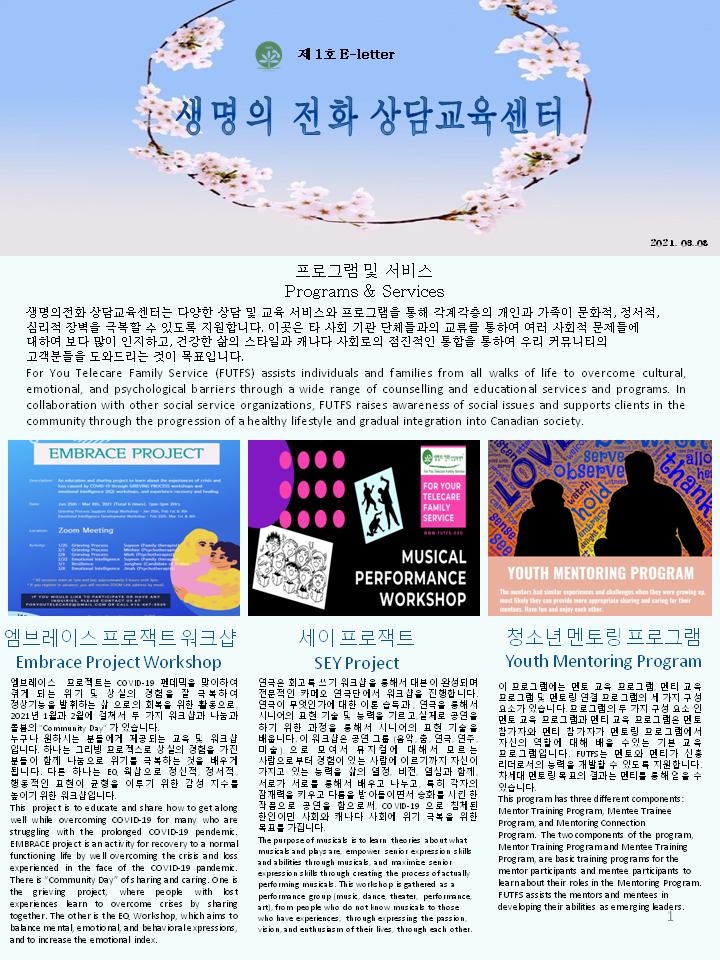 For You Telecare Family Service (FUTFS) assists individuals and families from all walks of life to overcome cultural, emotional, and psychological barriers through a wide range of counselling and educational services and programs. In collaboration with other social service organizations, FUTFS raises awareness of social issues and supports clients in the community through the progression of a healthy lifestyle and gradual integration into Canadian society.
Embrace Project Workshop 
This  project is to educate and share how to get along well while overcoming COVID-19 for many who are struggling with the prolonged COVID-19 pendemic. EMBRACE project is an activity for recovery to a normal functioning life by well overcoming the crisis and loss experienced in the face of the COVID-19 pandemic. There is "Community Day" of sharing and caring. One is the grieving project, where people with lost experiences learn to overcome crises by sharing together. The other is the EQ Workshop, which aims to balance mental, emotional, and behavioral expressions, and to increase the emotional index.
SEY Project
The purpose of musicals is to learn theories about what musicals and plays are, empower senior expression skills and abilities through musicals, and maximize senior expression skills through creating the process of actually performing musicals. This workshop is gathered as a performance group (music, dance, theater, performance, art), from people who do not know musicals to those who have experiences, through expressing the passion, vision, and enthusiasm of their lives, through each other.
Youth Mentoring Program
This program has three different components: Mentor Training Program, Mentee Trainee Program, and Mentoring Connection Program.  The two components of the program, Mentor Training Program and Mentee Training Program, are basic training programs for the mentor participants and mentee participants to learn about their roles in the Mentoring Program. FUTFS assists the mentors and mentees in developing their abilities as emerging leaders.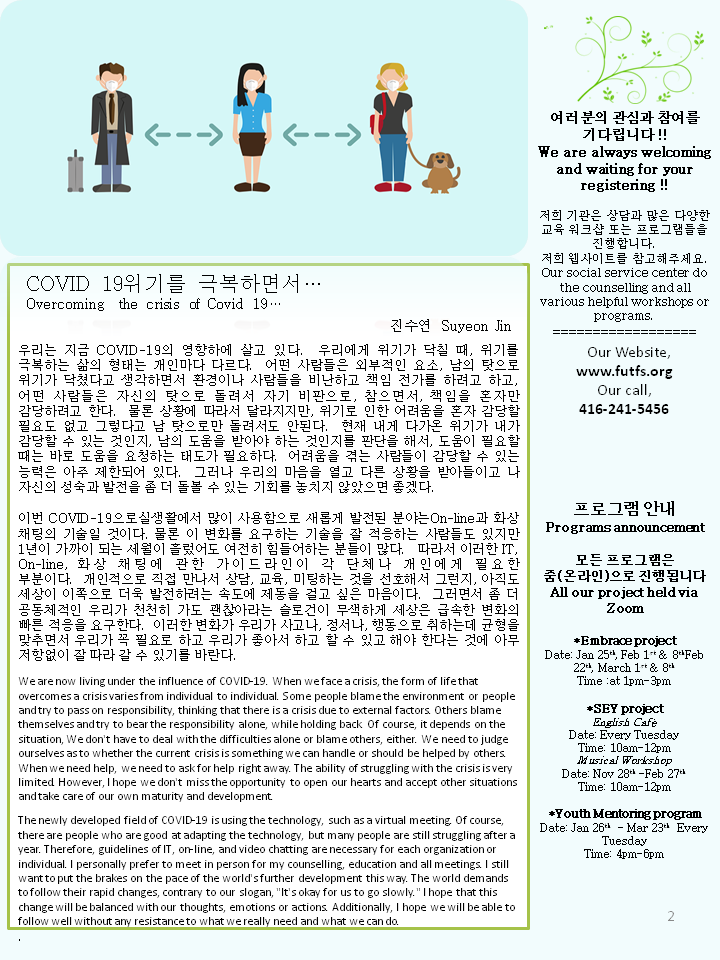 Overcoming  the crisis of Covid 19…
Suyeon Jin
We are now living under the influence of COVID-19. When we face a crisis, the form of life that overcomes a crisis varies from individual to individual. Some people blame the environment or people and try to pass on responsibility, thinking that there is a crisis due to external factors. Others blame themselves and try to bear the responsibility alone, while holding back. Of course, it depends on the situation, We don't have to deal with the difficulties alone or blame others, either. We need to judge ourselves as to whether the current crisis is something we can handle or should be helped by others. When we need help, we need to ask for help right away. The ability of struggling with the crisis is very limited. However, I hope we don't miss the opportunity to open our hearts and accept other situations and take care of our own maturity and development.
The newly developed field of COVID-19 is using the technology, such as a virtual meeting. Of course, there are people who are good at adapting the technology, but many people are still struggling after a year. Therefore, guidelines of IT, on-line, and video chatting are necessary for each organization or individual. I personally prefer to meet in person for my counselling, education and all meetings. I still want to put the brakes on the pace of the world's further development this way. The world demands to follow their rapid changes, contrary to our slogan, "It's okay for us to go slowly." I hope that this change will be balanced with our thoughts, emotions or actions. Additionally, I hope we will be able to follow well without any resistance to what we really need and what we can do.