FUTFS Newsletter 11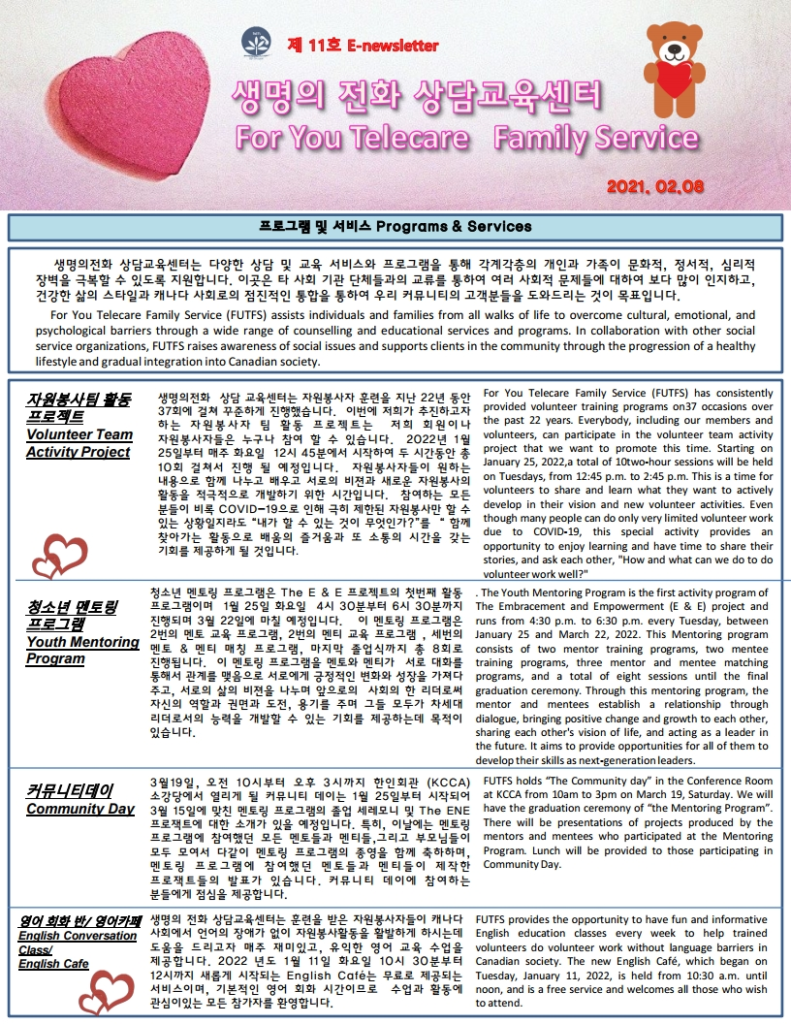 For You Telecare Family Service (FUTFS) assists individuals and families from all walks of life to overcome cultural, emotional, and psychological barriers through a wide range of counselling and educational services and programs. In collaboration with other social service organizations, FUTFS raises awareness of social issues and supports clients in the community through the progression of a healthy lifestyle and gradual integration into Canadian society.
Volunteer Team Activity Project
For You Telecare Family Service (FUTFS) has consistently provided volunteer training programs on37 occasions over the past 22 years. Everybody, including our members and volunteers, can participate in the volunteer team activity project that we want to promote this time. Starting on January 25, 2022,a total of 10two-hour sessions will be held on Tuesdays, from 12:45 p.m. to 2:45 p.m. This is a time for volunteers to share and learn what they want to actively develop in their vision and new volunteer activities. Even though many people can do only very limited volunteer work due to COVID-19, this special activity provides an opportunity to enjoy learning and have time to share their stories, and ask each other, "How and what can we do to do volunteer work well?"
Youth Mentoring Program
The Youth Mentoring Program is the first activity program of The Embracement and Empowerment (E & E) project and runs from 4:30 p.m. to 6:30 p.m. every Tuesday, between January 25 and March 22, 2022. This Mentoring program consists of two mentor training programs, two mentee training programs, three mentor and mentee matching programs, and a total of eight sessions until the final graduation ceremony. Through this mentoring program, the mentor and mentees establish a relationship through dialogue, bringing positive change and growth to each other, sharing each other's vision of life, and acting as a leader in the future. It aims to provide opportunities for all of them to develop their skills as next-generation leaders.
English Conversation Class/English Cafe
FUTFS provides the opportunity to have fun and informative English education classes every week to help trained volunteers do volunteer work without language barriers in Canadian society. The new English Café, which began on Tuesday, January 11, 2022, is held from 10:30 a.m. until noon, and is a free service and welcomes all those who wish to attend.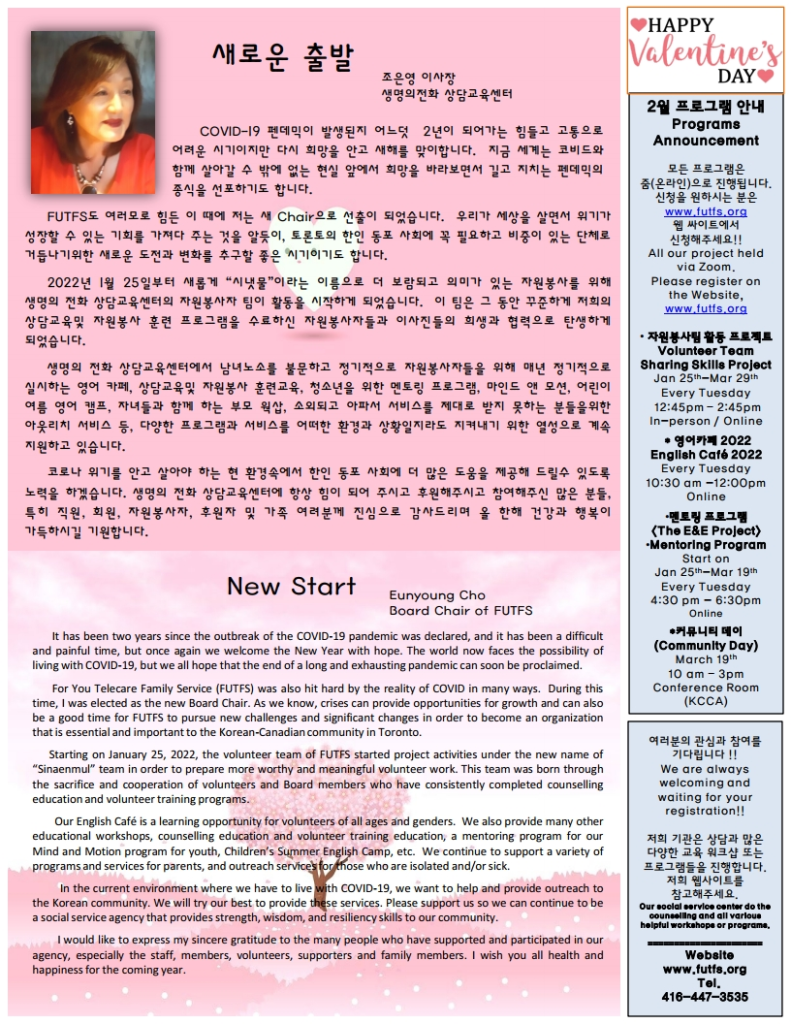 New Start
It has been two years since the outbreak of the COVID-19 pandemic was declared, and it has been a difficult and painful time, but once again we welcome the New Year with hope. The world now faces the possibility of living with COVID-19, but we all hope that the end of a long and exhausting pandemic can soon be proclaimed. For You Telecare Family Service (FUTFS) was also hit hard by the reality of COVID in many ways. During this time, I was elected as the new Board Chair. As we know, crises can provide opportunities for growth and can also be a good time for FUTFS to pursue new challenges and significant changes in order to become an organization that is essential and important to the Korean-Canadian community in Toronto. Starting on January 25, 2022, the volunteer team of FUTFS started project activities under the new name of "Sinaenmul" team in order to prepare more worthy and meaningful volunteer work. This team was born through the sacrifice and cooperation of volunteers and Board members who have consistently completed counselling education and volunteer training programs.
Our English Café is a learning opportunity for volunteers of all ages and genders. We also provide many other educational workshops, counselling education and volunteer training education, a mentoring program for our Mind and Motion program for youth, Children's Summer English Camp, etc. We continue to support a variety of programs and services for parents, and outreach services for those who are isolated and/or sick. In the current environment where we have to live with COVID-19, we want to help and provide outreach to the Korean community. We will try our best to provide these services. Please support us so we can continue to be a social service agency that provides strength, wisdom, and resiliency skills to our community. I would like to express my sincere gratitude to the many people who have supported and participated in our agency, especially the staff, members, volunteers, supporters and family members. I wish you all health and happiness for the coming year.
Eunyoung Cho (Board Chair of FUTFS)