FUTFS Newsletter 16 (July 2022)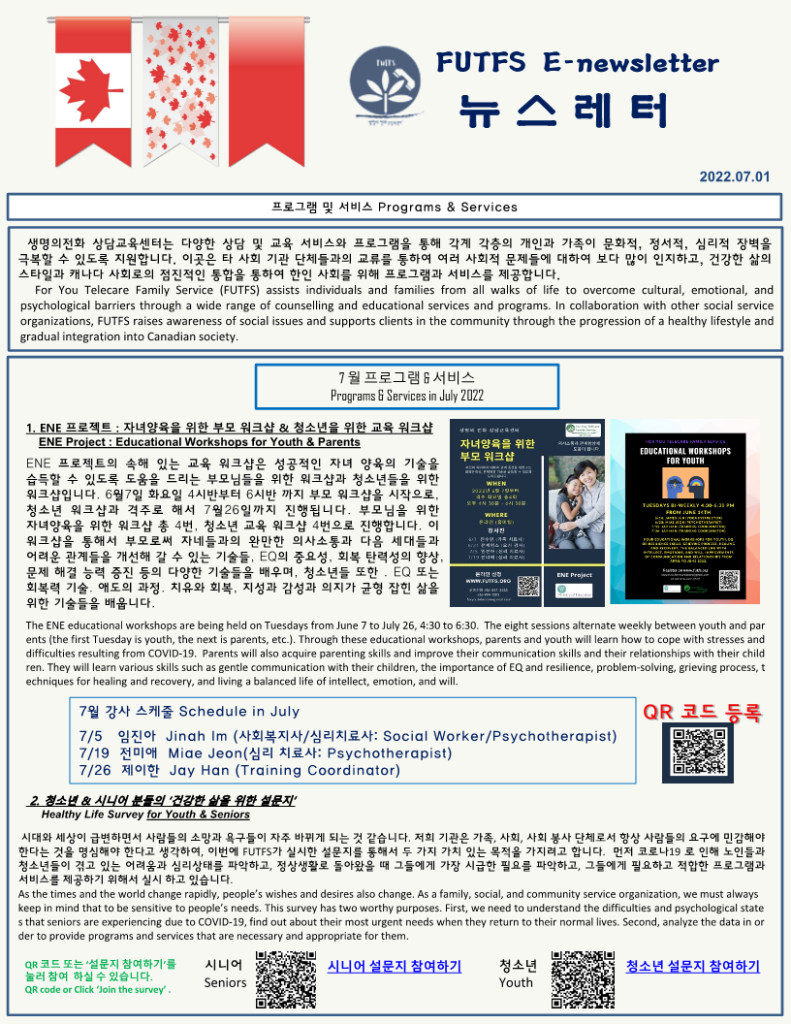 For You Telecare Family Service (FUTFS) assists individuals and families from all walks of life to overcome cultural, emotional, and psychological barriers through a wide range of counselling and educational services and programs. In collaboration with other social service organizations, FUTFS raises awareness of social issues and supports clients in the community through the progression of a healthy lifestyle and gradual integration into Canadian society.
Programs & Services in July 2022
ENE Project : Educational Workshops for Youth & Parents
The ENE educational workshops are being held on Tuesdays from June 7 to July 26, 4:30 to 6:30.  The eight sessions alternate weekly between youth and parents (the first Tuesday is youth, the next is parents, etc.). Through these educational workshops, parents and youth will learn how to cope with stresses and difficulties resulting from COVID-19.  Parents will also acquire parenting skills and improve their communication skills and their relationships with their children. They will learn various skills such as gentle communication with their children, the importance of EQ and resilience, problem-solving, grieving process, techniques for healing and recovery, and living a balanced life of intellect, emotion, and will.
Healthy Life Survey
for Youth & Seniors
As the times and the world change rapidly, people's wishes and desires also change. As a family, social, and community service organization, we must always keep in mind that to be sensitive to people's needs. This survey has two worthy purposes. First, we need to understand the difficulties and psychological states that seniors are experiencing due to COVID-19, find out about their most urgent needs when they return to their normal lives. Second, analyze the data in order to provide programs and services that are necessary and appropriate for them.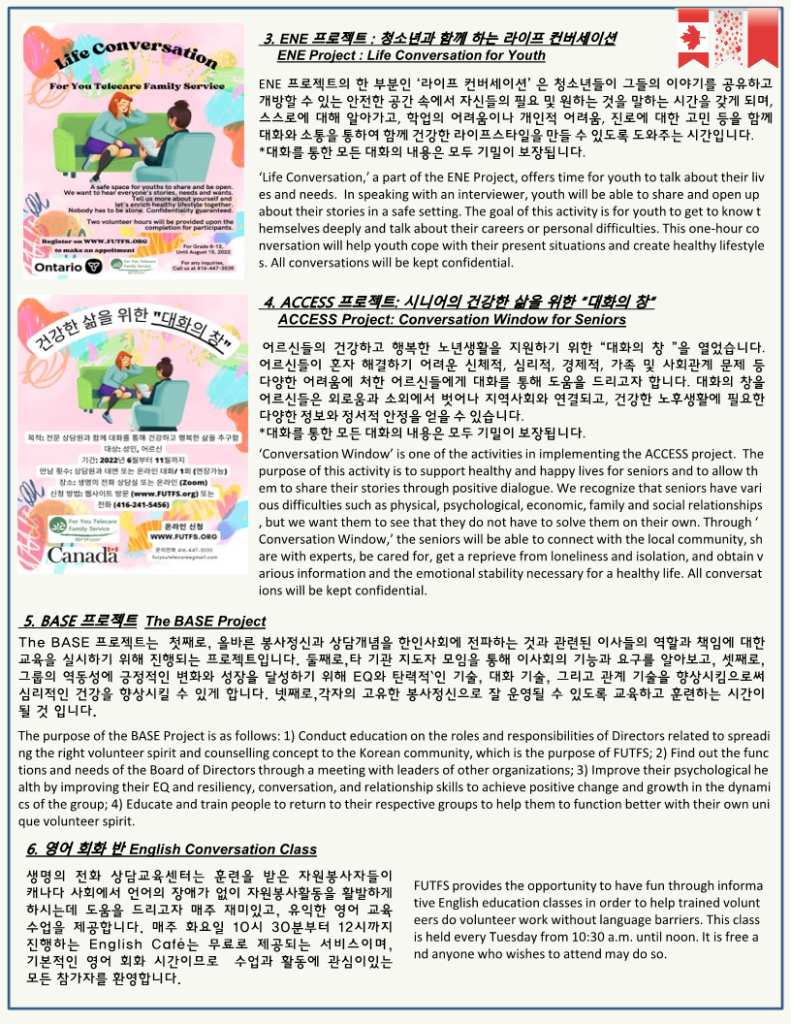 ENE Project :
Life Conversation for Youth
'Life Conversation,' a part of the ENE Project, offers time for youth to talk about their lives and needs.  In speaking with an interviewer, youth will be able to share and open up about their stories in a safe setting. The goal of this activity is for youth to get to know themselves deeply and talk about their careers or personal difficulties. This one-hour conversation will help youth cope with their present situations and create healthy lifestyles. All conversations will be kept confidential.
ACCESS Project
:
Conversation Window for Seniors
'Conversation Window' is one of the activities in implementing the ACCESS project.  The purpose of this activity is to support healthy and happy lives for seniors and to allow them to share their stories through positive dialogue. We recognize that seniors have various difficulties such as physical, psychological, economic, family and social relationships, but we want them to see that they do not have to solve them on their own. Through 'Conversation Window,' the seniors will be able to connect with the local community, share with experts, be cared for, get a reprieve from loneliness and isolation, and obtain various information and the emotional stability necessary for a healthy life. All conversations will be kept confidential.
The
BASE Project 
The purpose of the BASE Project is as follows: 1) Conduct education on the roles and responsibilities of Directors related to spreading the right volunteer spirit and counselling concept to the Korean community, which is the purpose of FUTFS; 2) Find out the functions and needs of the Board of Directors through a meeting with leaders of other organizations; 3) Improve their psychological health by improving their EQ and resiliency, conversation, and relationship skills to achieve positive change and growth in the dynamics of the group; 4) Educate and train people to return to their respective groups to help them to function better with their own unique volunteer spirit.
English Conversation Class
FUTFS provides the opportunity to have fun through informative English education classes in order to help trained volunteers do volunteer work without language barriers. This class is held every Tuesday from 10:30 a.m. until noon. It is free and anyone who wishes to attend may do so.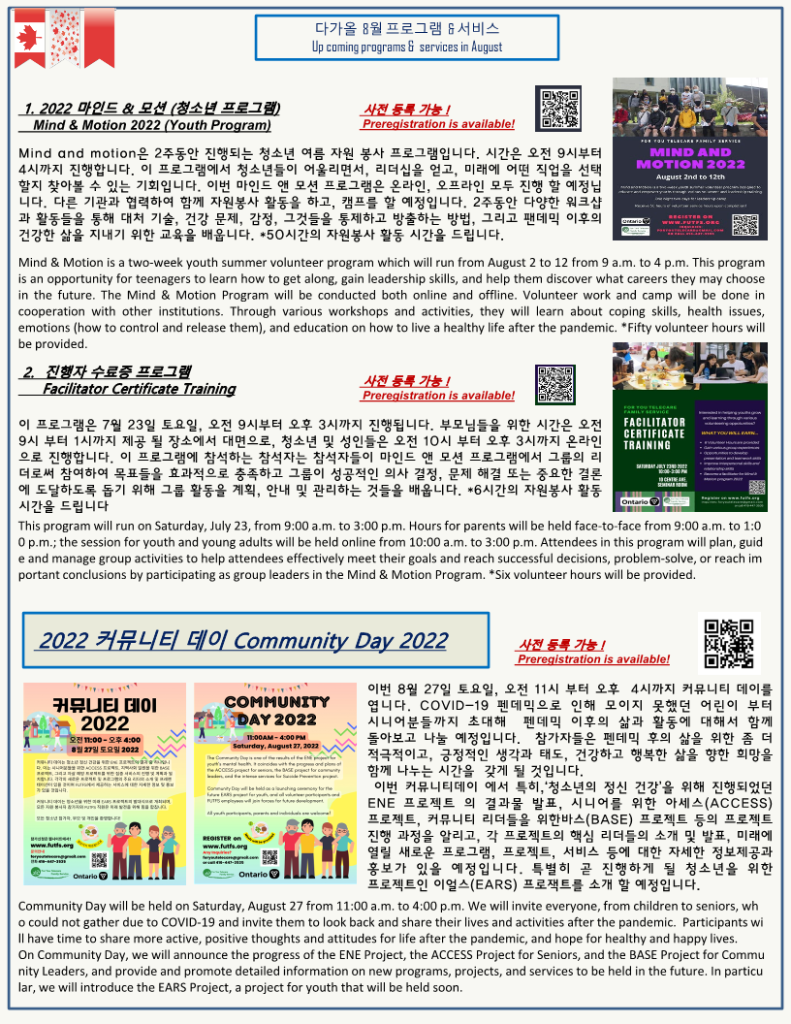 Mind & Motion 2022 (Youth Program)
Mind & Motion is a two-week youth summer volunteer program which will run from August 2 to 12 from 9 a.m. to 4 p.m. This program is an opportunity for teenagers to learn how to get along, gain leadership skills, and help them discover what careers they may choose in the future. The Mind & Motion Program will be conducted both online and offline. Volunteer work and camp will be done in cooperation with other institutions. Through various workshops and activities, they will learn about coping skills, health issues, emotions (how to control and release them), and education on how to live a healthy life after the pandemic. *Fifty volunteer hours will be provided.
Facilitator Certificate Training
This program will run on Saturday, July 23, from 9:00 a.m. to 3:00 p.m. Hours for parents will be held face-to-face from 9:00 a.m. to 1:00 p.m.; the session for youth and young adults will be held online from 10:00 a.m. to 3:00 p.m. Attendees in this program will plan, guide and manage group activities to help attendees effectively meet their goals and reach successful decisions, problem-solve, or reach important conclusions by participating as group leaders in the Mind & Motion Program. *Six volunteer hours will be provided.
Community Day 2022
Community Day will be held on Saturday, August 27 from 11:00 a.m. to 4:00 p.m. We will invite everyone, from children to seniors, who could not gather due to COVID-19 and invite them to look back and share their lives and activities after the pandemic.  Participants will have time to share more active, positive thoughts and attitudes for life after the pandemic, and hope for healthy and happy lives.
On Community Day, we will announce the progress of the ENE Project, the ACCESS Project for Seniors, and the BASE Project for Community Leaders, and provide and promote detailed information on new programs, projects, and services to be held in the future. In particular, we will introduce the EARS Project, a project for youth that will be held soon.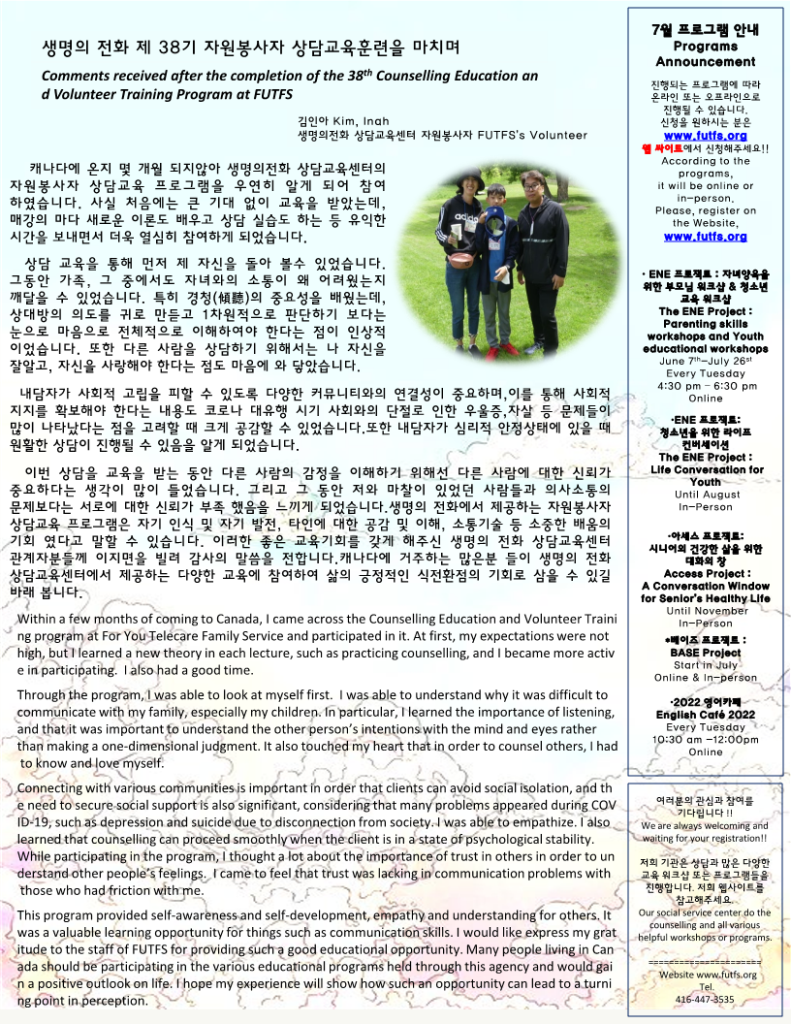 Comments received after the completion of the 38
th
Counselling
Education and Volunteer Training Program at FUTFS
Kim, Inah (FUTFS's Volunteer)
Within a few months of coming to Canada, I came across the Counselling Education and Volunteer Training program at For You Telecare Family Service and participated in it. At first, my expectations were not high, but I learned a new theory in each lecture, such as practicing counselling, and I became more active in participating.  I also had a good time.
Through the program, I was able to look at myself first.  I was able to understand why it was difficult to
communicate with my family, especially my children. In particular, I learned the importance of listening, and that it was important to understand the other person's intentions with the mind and eyes rather
than making a one-dimensional judgment. It also touched my heart that in order to counsel others, I had
to know and love myself.
Connecting with various communities is important in order that clients can avoid social isolation, and the need to secure social support is also significant, considering that many problems appeared during COVID-19, such as depression and suicide due to disconnection from society. I was able to empathize. I also
learned that counselling can proceed smoothly when the client is in a state of psychological stability.
While participating in the program, I thought a lot about the importance of trust in others in order to understand other people's feelings.  I came to feel that trust was lacking in communication problems with
those who had friction with me.
This program provided self-awareness and self-development, empathy and understanding for others. It was a valuable learning opportunity for things such as communication skills. I would like express my gratitude to the staff of FUTFS for providing such a good educational opportunity. Many people living in Canada should be participating in the various educational programs held through this agency and would gain a positive outlook on life. I hope my experience will show how such an opportunity can lead to a turning point in perception.