FUTFS Newsletter 18 (September 2022)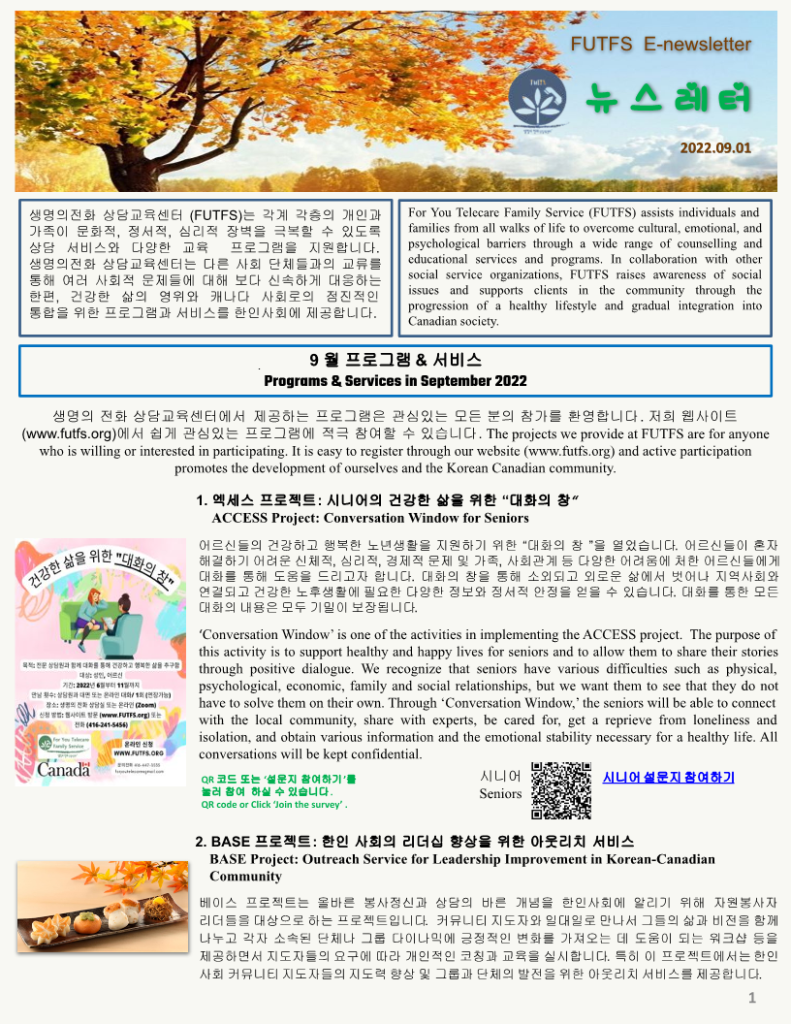 For You Telecare Family Service (FUTFS) assists individuals and families from all walks of life to overcome cultural, emotional, and psychological barriers through a wide range of counselling and educational services and programs. In collaboration with other social service organizations, FUTFS raises awareness of social issues and supports clients in the community through the progression of a healthy lifestyle and gradual integration into Canadian society.
Programs & Services in September 2022
The projects we provide at FUTFS are for anyone who is willing or interested in participating. It is easy to register through our website (www.futfs.org) and active participation promotes the development of ourselves and the Korean Canadian community.
ACCESS Project: Conversation Window for Seniors
'Conversation Window' is one of the activities in implementing the ACCESS project.  The purpose of this activity is to support healthy and happy lives for seniors and to allow them to share their stories through positive dialogue. We recognize that seniors have various difficulties such as physical, psychological, economic, family and social relationships, but we want them to see that they do not have to solve them on their own. Through 'Conversation Window,' the seniors will be able to connect with the local community, share with experts, be cared for, get a reprieve from loneliness and isolation, and obtain various information and the emotional stability necessary for a healthy life. All conversations will be kept confidential.
BASE Project: Outreach Service for Leadership Improvement in Korean-Canadian Community
The Belonging Accepting Sharing and Empowering (BASE) project is a project that teaches the importance of the roles and responsibilities of volunteer leaders in disseminating the right spirit of service and counseling to the Korean community. FUTFS will meet one-on-one with community leaders to share their lives and visions, and provide workshops that are helpful for positive change and growth in the group to which they belong, and provide individual coaching or education at the request of the leaders. In particular, this project provides outreach services for improving the leadership of the Korean-Canadian community leaders and for the development of local groups and organizations.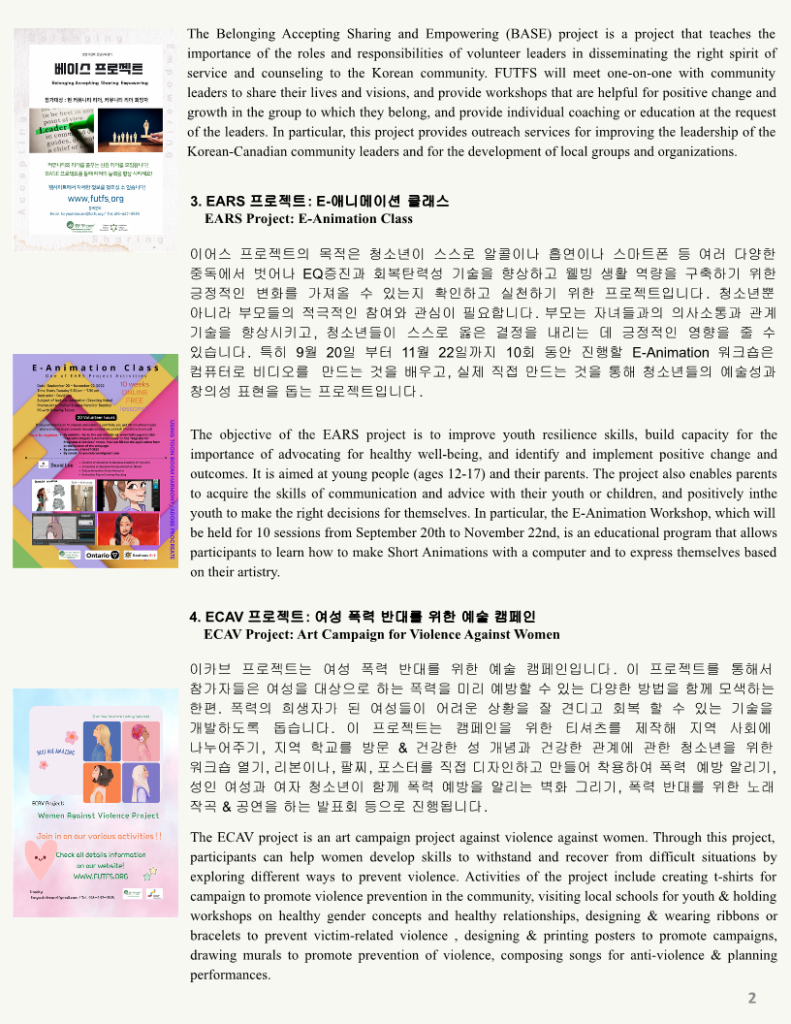 EARS Project: E-Animation Class
The objective of the EARS project is to improve youth resilience skills, build capacity for the importance of advocating for healthy well-being, and identify and implement positive change and outcomes. It is aimed at young people (ages 12-17) and their parents. The project also enables parents to acquire the skills of communication and advice with their youth or children, and positively in the youth to make the right decisions for themselves. In particular, the E-Animation Workshop, which will be held for 10 sessions from September 20th to November 22nd, is an educational program that allows participants to learn how to make Short Animations with a computer and to express themselves based on their artistry.
ECAV Project: Art Campaign for Violence Against Women
The ECAV project is an art campaign project against violence against women. Through this project, participants can help women develop skills to withstand and recover from difficult situations by exploring different ways to prevent violence. Activities of the project include creating t-shirts for campaign to promote violence prevention in the community, visiting local schools for youth & holding workshops on healthy gender concepts and healthy relationships, designing & wearing ribbons or bracelets to prevent victim-related violence , designing & printing posters to promote campaigns, drawing murals to promote prevention of violence, composing songs for anti-violence & planning performances.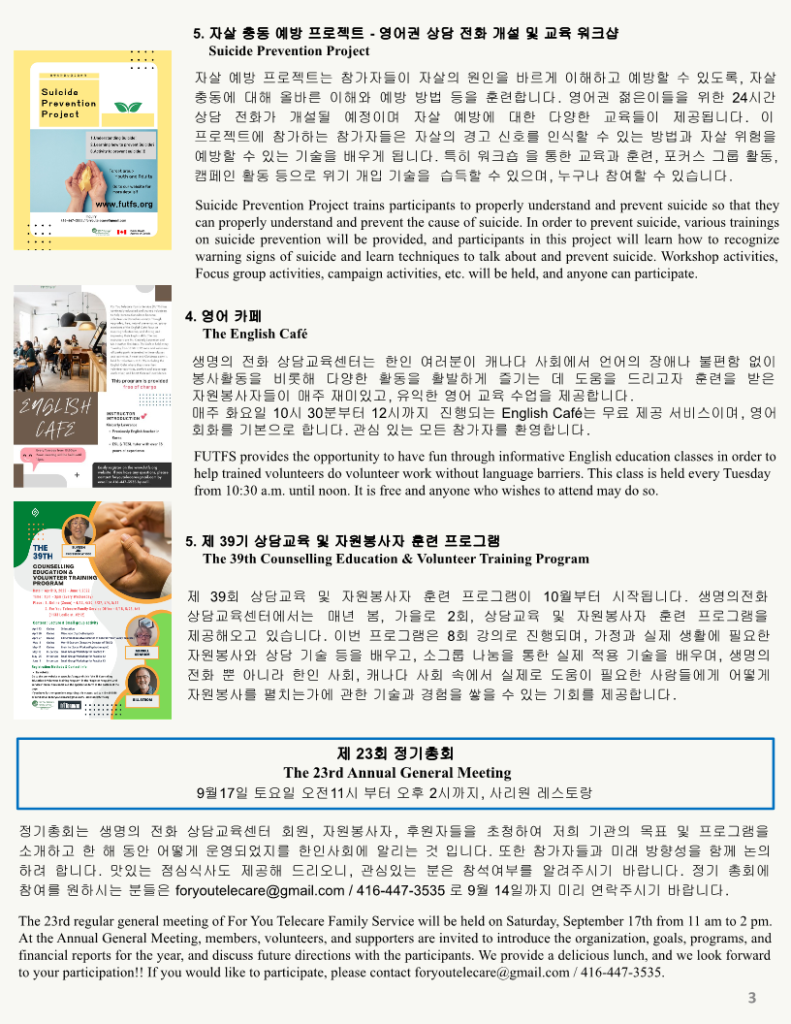 Suicide Prevention Project
Suicide Prevention Project trains participants to properly understand and prevent suicide so that they can properly understand and prevent the cause of suicide. In order to prevent suicide, various trainings on suicide prevention will be provided, and participants in this project will learn how to recognize warning signs of suicide and learn techniques to talk about and prevent suicide. Workshop activities, Focus group activities, campaign activities, etc. will be held, and anyone can participate.
The English Café
FUTFS provides the opportunity to have fun through informative English education classes in order to help trained volunteers do volunteer work without language barriers. This class is held every Tuesday from 10:30 a.m. until noon. It is free and anyone who wishes to attend may do so.
The 39th Counselling Education & Volunteer Training Program
No description about this program yet.
The 23rd Annual General Meeting
The 23rd regular general meeting of For You Telecare Family Service will be held on Saturday, September 17th from 11 am to 2 pm.  At the Annual General Meeting, members, volunteers, and supporters are invited to introduce the organization, goals, programs, and financial reports for the year, and discuss future directions with the participants. We provide a delicious lunch, and we look forward to your participation!! If you would like to participate, please contact
[email protected]
/ 416-447-3535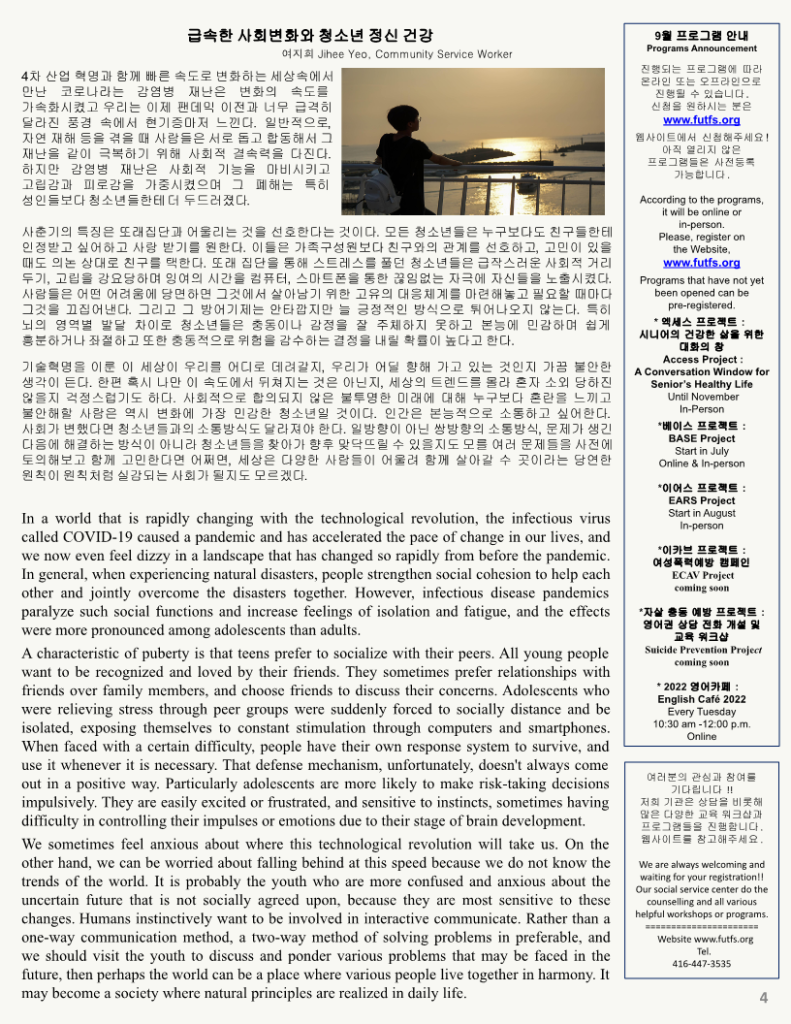 In a world that is rapidly changing with the technological revolution, the infectious virus called COVID-19 caused a pandemic and has accelerated the pace of change in our lives, and we now even feel dizzy in a landscape that has changed so rapidly from before the pandemic. In general, when experiencing natural disasters, people strengthen social cohesion to help each other and jointly overcome the disasters together. However, infectious disease pandemics paralyze such social functions and increase feelings of isolation and fatigue, and the effects were more pronounced among adolescents than adults.
A characteristic of puberty is that teens prefer to socialize with their peers. All young people want to be recognized and loved by their friends. They sometimes prefer relationships with friends over family members, and choose friends to discuss their concerns. Adolescents who were relieving stress through peer groups were suddenly forced to socially distance and be isolated, exposing themselves to constant stimulation through computers and smartphones. When faced with a certain difficulty, people have their own response system to survive, and use it whenever it is necessary. That defense mechanism, unfortunately, doesn't always come out in a positive way. Particularly adolescents are more likely to make risk-taking decisions impulsively. They are easily excited or frustrated, and sensitive to instincts, sometimes having difficulty in controlling their impulses or emotions due to their stage of brain development. 
We sometimes feel anxious about where this technological revolution will take us. On the other hand, we can be worried about falling behind at this speed because we do not know the trends of the world. It is probably the youth who are more confused and anxious about the uncertain future that is not socially agreed upon, because they are most sensitive to these changes. Humans instinctively want to be involved in interactive communicate. Rather than a one-way communication method, a two-way method of solving problems in preferable, and we should visit the youth to discuss and ponder various problems that may be faced in the future, then perhaps the world can be a place where various people live together in harmony. It may become a society where natural principles are realized in daily life.
Jihee Yeo, Community Service Worker