FUTFS Newsletter 24 (March 2023)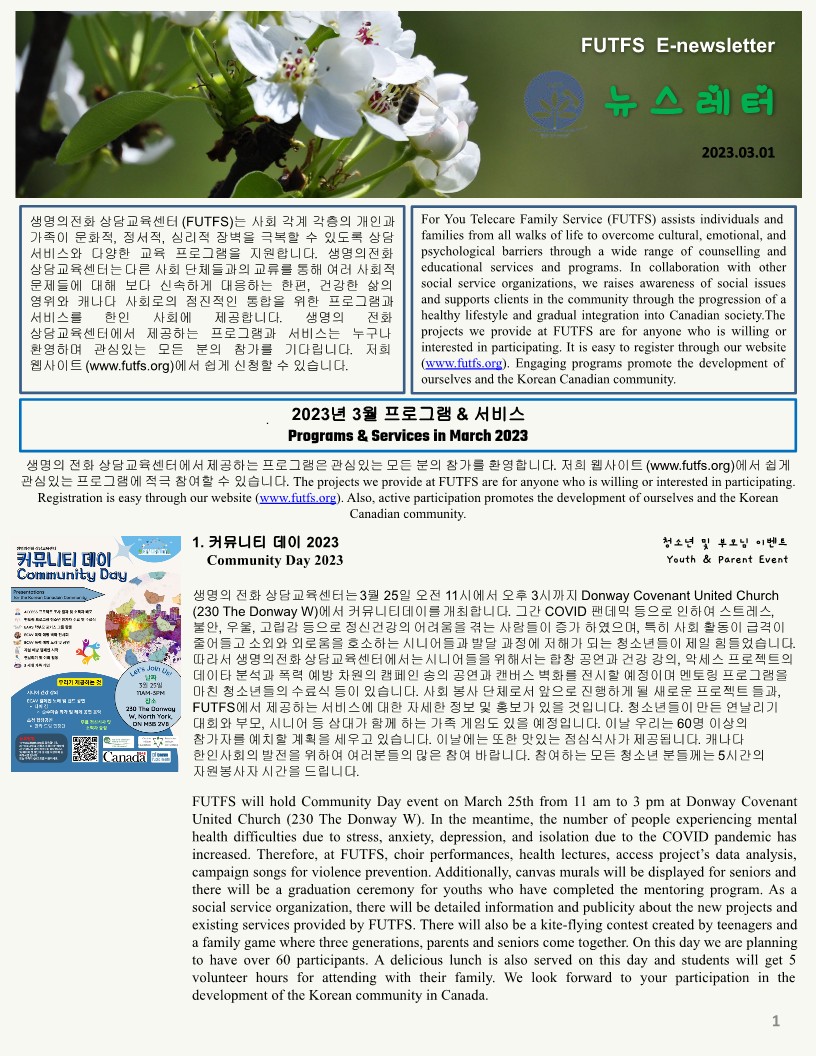 For You Telecare Family Service (FUTFS) assists individuals and families from all walks of life to overcome cultural, emotional, and psychological barriers through a wide range of counselling and educational services and programs. In collaboration with other social service organizations, we raises awareness of social issues and supports clients in the community through the progression of a healthy lifestyle and gradual integration into Canadian society.The projects we provide at FUTFS are for anyone who is willing or interested in participating. It is easy to register through our website (
www.futfs.org
). Engaging programs promote the development of ourselves and the Korean Canadian community.
Programs & Services in March 2023
The projects we provide at FUTFS are for anyone who is willing or interested in participating. Registration is easy through our website (
www.futfs.org
). Also, active participation promotes the development of ourselves and the Korean Canadian community.
1. Community Day 2023
FUTFS will hold Community Day event on March 25th from 11 am to 3 pm at Donway Covenant United Church (230 The Donway W). In the meantime, the number of people experiencing mental health difficulties due to stress, anxiety, depression, and isolation due to the COVID pandemic has increased. Therefore, at FUTFS, choir performances, health lectures, access project's data analysis, campaign songs for violence prevention. Additionally, canvas murals will be displayed for seniors and there will be a graduation ceremony for youths who have completed the mentoring program. As a social service organization, there will be detailed information and publicity about the new projects and existing services provided by FUTFS. There will also be a kite-flying contest created by teenagers and a family game where three generations, parents and seniors come together. On this day we are planning to have over 60 participants. A delicious lunch is also served on this day and students will get 5 volunteer hours for attending with their family. We look forward to your participation in the development of the Korean community in Canada.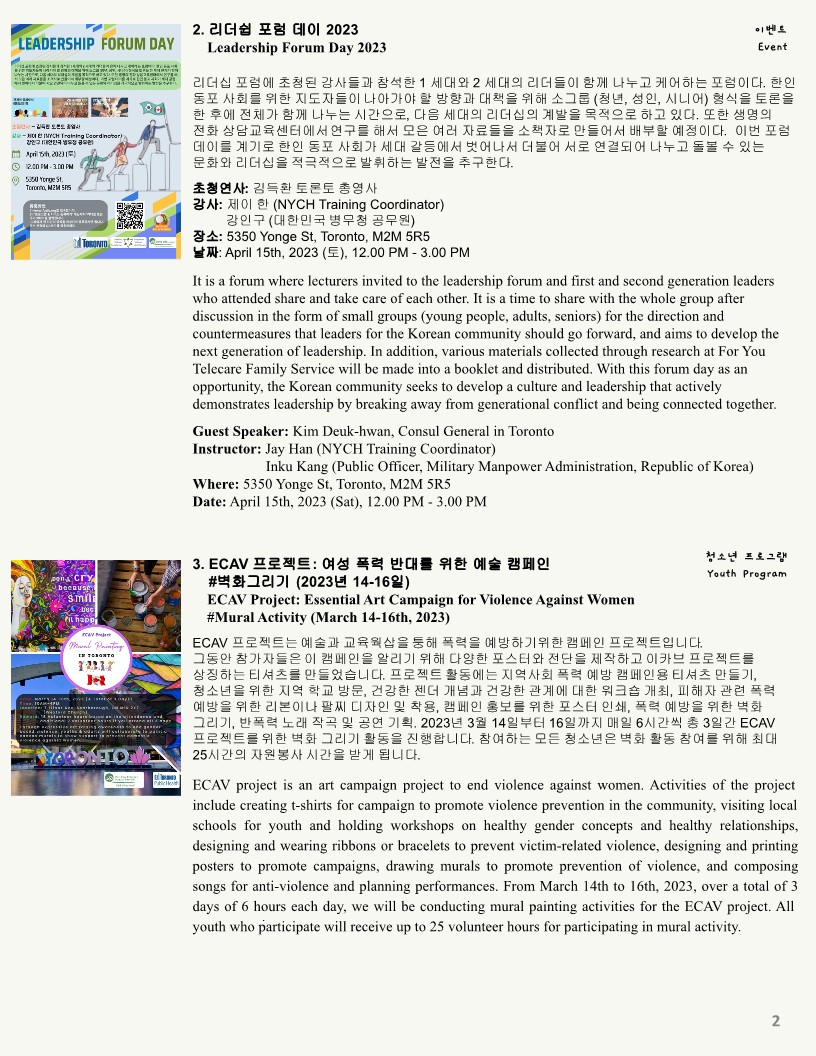 2. Leadership Forum Day 2023
It is a forum where lecturers invited to the leadership forum and first and second generation leaders who attended share and take care of each other. It is a time to share with the whole group after discussion in the form of small groups (young people, adults, seniors) for the direction and countermeasures that leaders for the Korean community should go forward, and aims to develop the next generation of leadership. In addition, various materials collected through research at For You Telecare Family Service will be made into a booklet and distributed. With this forum day as an opportunity, the Korean community seeks to develop a culture and leadership that actively demonstrates leadership by breaking away from generational conflict and being connected together.
Guest Speaker:
Kim Deuk-hwan, Consul General in Toronto
Instructor:
Jay Han (NYCH Training Coordinator)
                    Inku Kang (Public Officer, Military Manpower Administration, Republic of Korea)
Where:
5350 Yonge St, Toronto, M2M 5R5
Date:
April 15th, 2023 (Sat), 12.00 PM - 3.00 PM
3. ECAV Project: Essential Art Campaign for Violence Against Women #Mural Activity (March 14-16th, 2023)
ECAV project is an art campaign project to end violence against women. Activities of the project include creating t-shirts for campaign to promote violence prevention in the community, visiting local schools for youth and holding workshops on healthy gender concepts and healthy relationships, designing and wearing ribbons or bracelets to prevent victim-related violence, designing and printing posters to promote campaigns, drawing murals to promote prevention of violence, and composing songs for anti-violence and planning performances. From March 14th to 16th, 2023, over a total of 3 days of 6 hours each day, we will be conducting mural painting activities for the ECAV project. All youth who participate will receive up to 25 volunteer hours for participating in mural activity.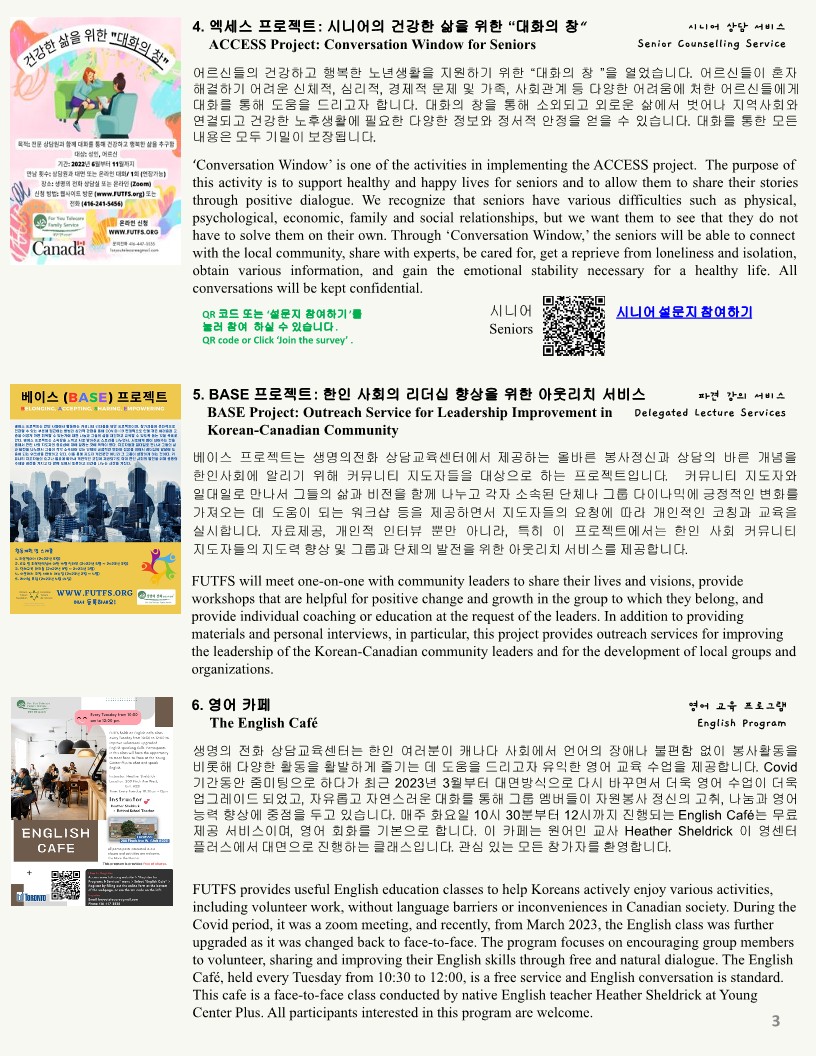 4. ACCESS Project: Conversation Window for Seniors
'
Conversation Window' is one of the activities in implementing the ACCESS project.  The purpose of this activity is to support healthy and happy lives for seniors and to allow them to share their stories through positive dialogue. We recognize that seniors have various difficulties such as physical, psychological, economic, family and social relationships, but we want them to see that they do not have to solve them on their own. Through 'Conversation Window,' the seniors will be able to connect with the local community, share with experts, be cared for, get a reprieve from loneliness and isolation, obtain various information, and gain the emotional stability necessary for a healthy life. All conversations will be kept confidential. 
5. BASE Project: Outreach Service for Leadership Improvement in Korean-Canadian Community
FUTFS will meet one-on-one with community leaders to share their lives and visions, provide workshops that are helpful for positive change and growth in the group to which they belong, and provide individual coaching or education at the request of the leaders. In addition to providing materials and personal interviews, in particular, this project provides outreach services for improving the leadership of the Korean-Canadian community leaders and for the development of local groups and organizations.
6.
 The English Café
FUTFS provides useful English education classes to help Koreans actively enjoy various activities, including volunteer work, without language barriers or inconveniences in Canadian society. During the Covid period, it was a zoom meeting, and recently, from March 2023, the English class was further upgraded as it was changed back to face-to-face. The program focuses on encouraging group members to volunteer, sharing and improving their English skills through free and natural dialogue. The English Café, held every Tuesday from 10:30 to 12:00, is a free service and English conversation is standard. This cafe is a face-to-face class conducted by native English teacher Heather Sheldrick at Young Center Plus. All participants interested in this program are welcome.
Healthy Old Age Life Through Lifelong Education and Social Activities
It is after graduating from school or not attending school that the desire to learn rapidly diminishes. So what makes you feel like you have to keep learning? Is it when you have to decide on a new job, when you discover what you really want to do, or when you make plans to spend your old age well? On the other hand, there are times when you have to give up on learning because your hearing or sight is weakened due to old age, with aging you cannot physically do the same things, or when life is not fun or depressed. It is said that people give up easily when they cannot do everything they want to do within the set time and their physical stamina does not keep up. According to a research study a few days ago, it is said that people who are having dementia symptoms get better without progressing when they start playing online games that are very complex. Trying not to use your brain is one of the things that happen naturally as you get older. Therefore, it is necessary to overcome the desire to live according to instinct as you get older and to develop inner strength. Similar to a salmon that demonstrates the power to go back upstream, this is passion. It is to emit a mind that can be considerate of others rather than for oneself and an energy that can think of others from the inside out. This proves the importance of lifelong education, and I personally believe that it should not disappear from my mind until the end of my life. In the past, there was a retirement age, so you decided to retire at a certain time. However, there are people who prepare for life after retirement, but there are many people who retire without preparation because they have vague thoughts about retirement. Although the retirement age has recently been abolished in the case of Canada, many people are delaying retirement. Perhaps the term retirement itself could be changed to something else. Before retirement, there are cases where you continue to have a business or job so that your post-retirement life can be stabilized, but it can be seen that there is a stronger desire to engage in activities or relationships by being connected to society without being alienated. Among the things that can achieve lifelong learning and social activity, the most popular and well-organized are senior colleges. Currently, a college for the elderly conducted by the church is being actively conducted in Canada. In addition, there are programs and activities conducted with objectives such as outside volunteer groups, education, hobbies, and recreational activities. As a family therapist, the lifelong education and extracurricular activities that I would like to recommend is a life of volunteering while actively participating in social service organizations.
Suyeon Jin, Executive Director at FUTFS