FUTFS Newsletter 27 (June 2023)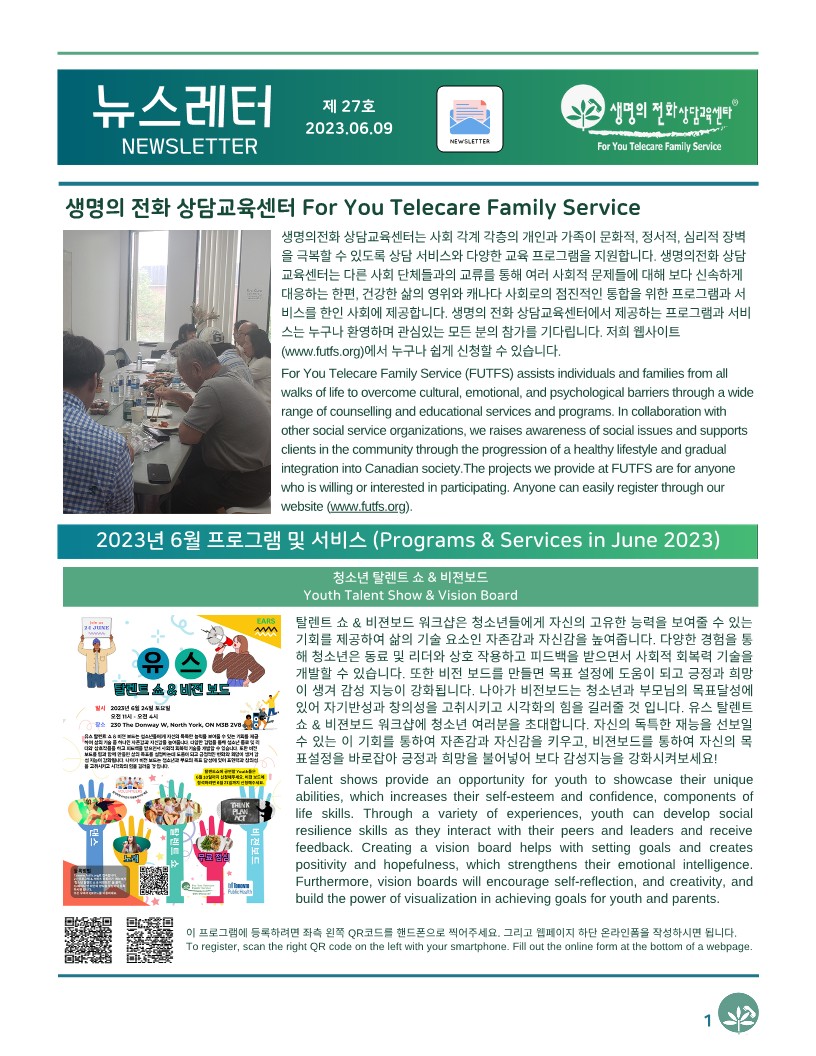 For You Telecare Family Service (FUTFS) assists individuals and families from all walks of life to overcome cultural, emotional, and psychological barriers through a wide range of counselling and educational services and programs. In collaboration with other social service organizations, we raises awareness of social issues and supports clients in the community through the progression of a healthy lifestyle and gradual integration into Canadian society.The projects we provide at FUTFS are for anyone who is willing or interested in participating. Anyone can easily register through our website (
www.futfs.org
).
Programs & Services in June 2023
1. Youth Talent Show & Vision Board
Talent shows provide an opportunity for youth to showcase their unique abilities, which increases their self-esteem and confidence, components of life skills. Through a variety of experiences, youth can develop social resilience skills as they interact with their peers and leaders and receive feedback. Creating a vision board helps with setting goals and creates positivity and hopefulness, which strengthens their emotional intelligence. Furthermore, vision boards will encourage self-reflection, and creativity, and build the power of visualization in achieving goals for youth and parents.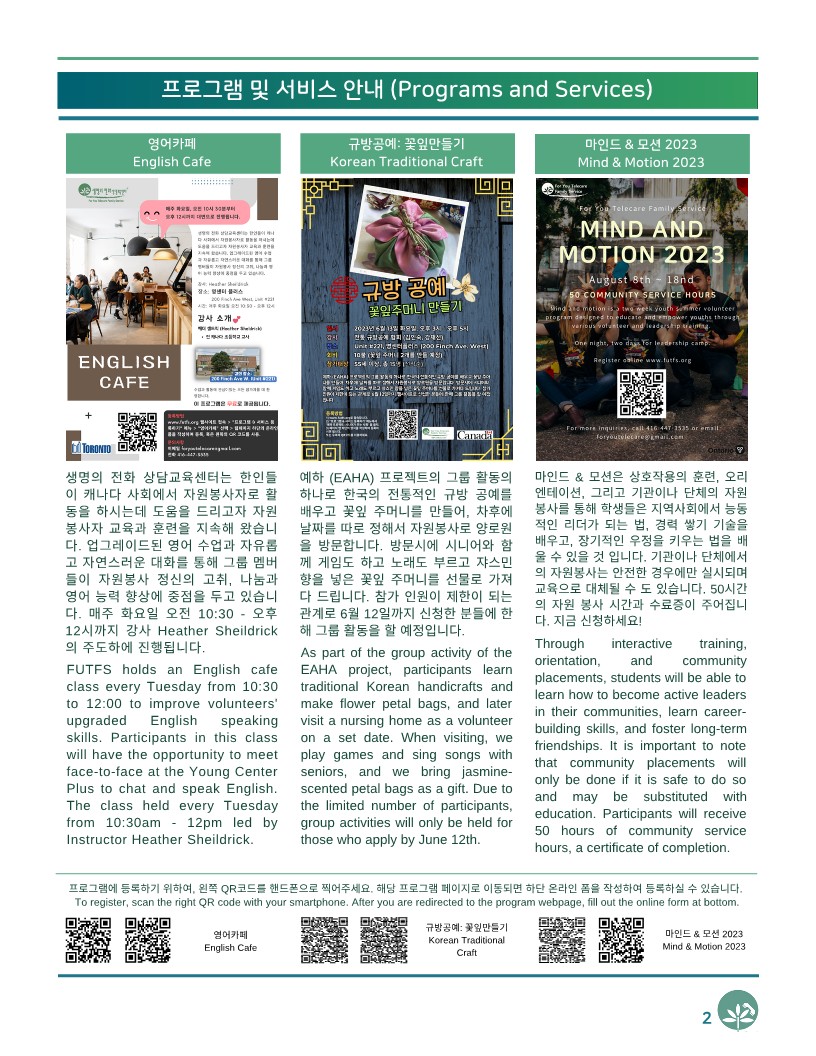 2.

English Cafe
FUTFS holds an English cafe class every Tuesday from 10:30 to 12:00 to improve volunteers' upgraded English speaking skills. Participants in this class will have the opportunity to meet face-to-face at the Young Center Plus to chat and speak English. The class held every Tuesday from 10:30am - 12pm led by Instructor Heather Sheildrick.
3.

Korean Traditional Craft
As part of the group activity of the EAHA project, participants learn traditional Korean handicrafts and make flower petal bags, and later visit a nursing home as a volunteer on a set date. When visiting, we play games and sing songs with seniors, and we bring jasmine-scented petal bags as a gift. Due to the limited number of participants, group activities will only be held for those who apply by June 12th.
4.

Mind & Motion 2023
Through interactive training, orientation, and community placements, students will be able to learn how to become active leaders in their communities, learn career-building skills, and foster long-term friendships. It is important to note that community placements will only be done if it is safe to do so and may be substituted with education. Participants will receive 50 hours of community service hours, a certificate of completion.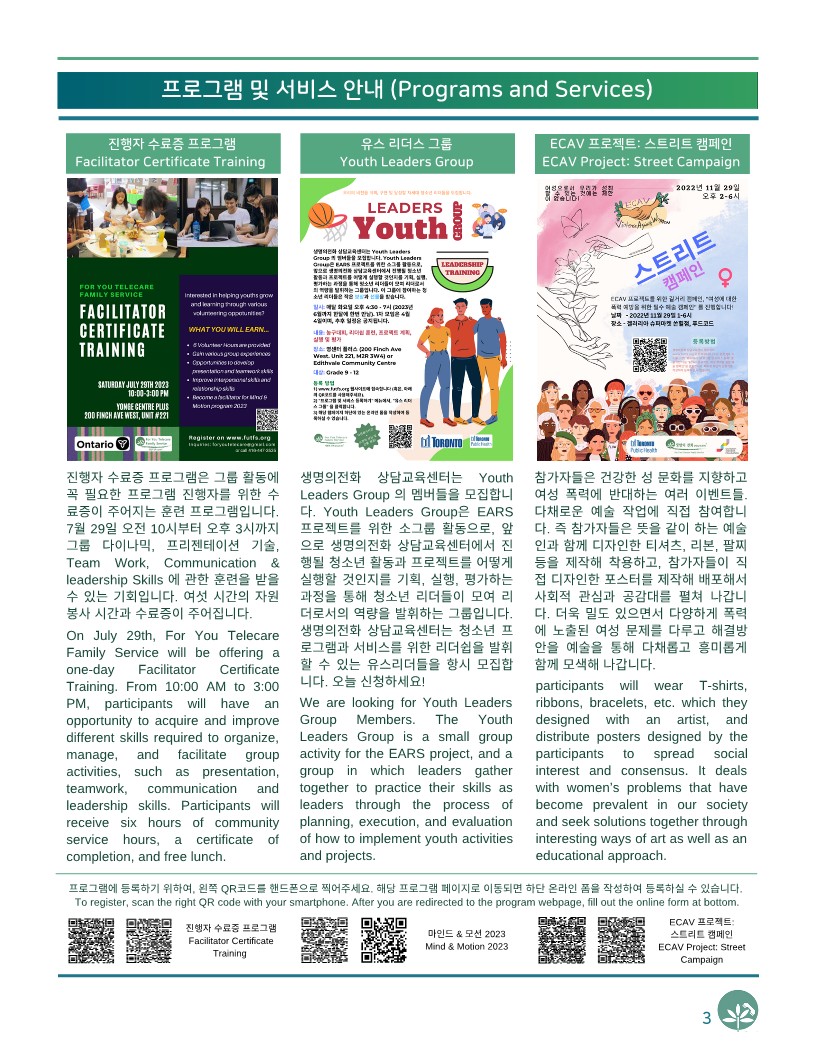 5. Facilitator Certificate Training
On July 29th, For You Telecare Family Service will be offering a one-day Facilitator Certificate Training. From 10:00 AM to 3:00 PM, participants will have an opportunity to acquire and improve different skills required to organize, manage, and facilitate group activities, such as presentation, teamwork, communication and leadership skills. Participants will receive six hours of community service hours, a certificate of completion, and free lunch.
6.

Youth Leaders Group
We are looking for Youth Leaders Group Members. The Youth Leaders Group is a small group activity for the EARS project, and a group in which leaders gather together to practice their skills as leaders through the process of planning, execution, and evaluation of how to implement youth activities and projects.
7.

ECAV Project: Street Campaign
participants will wear T-shirts, ribbons, bracelets, etc. which they designed with an artist, and distribute posters designed by the participants to spread social interest and consensus. It deals with women's problems that have become prevalent in our society and seek solutions together through interesting ways of art as well as an educational approach.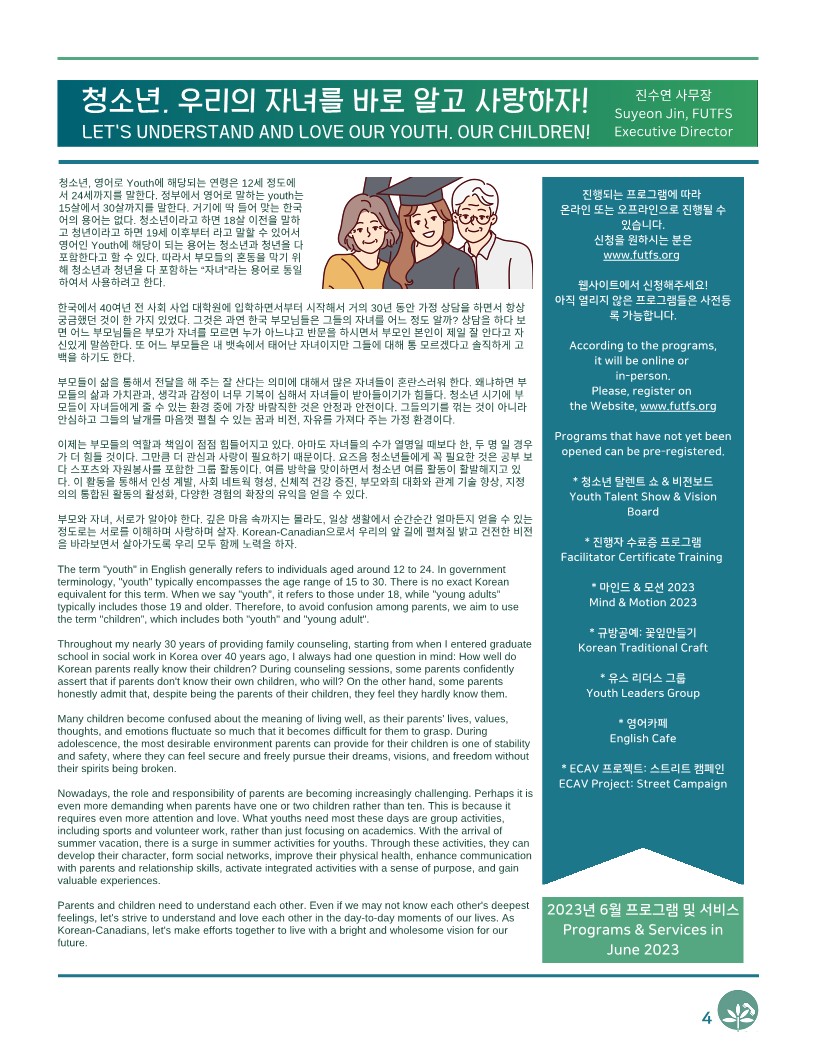 Let's Understand and Love Our Youth, Our Children!
The term "youth" in English generally refers to individuals aged around 12 to 24. In government terminology, "youth" typically encompasses the age range of 15 to 30. There is no exact Korean equivalent for this term. When we say "youth", it refers to those under 18, while "young adults" typically includes those 19 and older. Therefore, to avoid confusion among parents, we aim to use the term "children", which includes both "youth" and "young adult".
Throughout my nearly 30 years of providing family counseling, starting from when I entered graduate school in social work in Korea over 40 years ago, I always had one question in mind: How well do Korean parents really know their children? During counseling sessions, some parents confidently assert that if parents don't know their own children, who will? On the other hand, some parents honestly admit that, despite being the parents of their children, they feel they hardly know them.
Many children become confused about the meaning of living well, as their parents' lives, values, thoughts, and emotions fluctuate so much that it becomes difficult for them to grasp. During adolescence, the most desirable environment parents can provide for their children is one of stability and safety, where they can feel secure and freely pursue their dreams, visions, and freedom without their spirits being broken.
Nowadays, the role and responsibility of parents are becoming increasingly challenging. Perhaps it is even more demanding when parents have one or two children rather than ten. This is because it requires even more attention and love. What youths need most these days are group activities, including sports and volunteer work, rather than just focusing on academics. With the arrival of summer vacation, there is a surge in summer activities for youths. Through these activities, they can develop their character, form social networks, improve their physical health, enhance communication with parents and relationship skills, activate integrated activities with a sense of purpose, and gain valuable experiences.
Parents and children need to understand each other. Even if we may not know each other's deepest feelings, let's strive to understand and love each other in the day-to-day moments of our lives. As Korean-Canadians, let's make efforts together to live with a bright and wholesome vision for our future.
Suyeon Jin, FUTFS Executive Director