FUTFS Newsletter 28 (July 2023)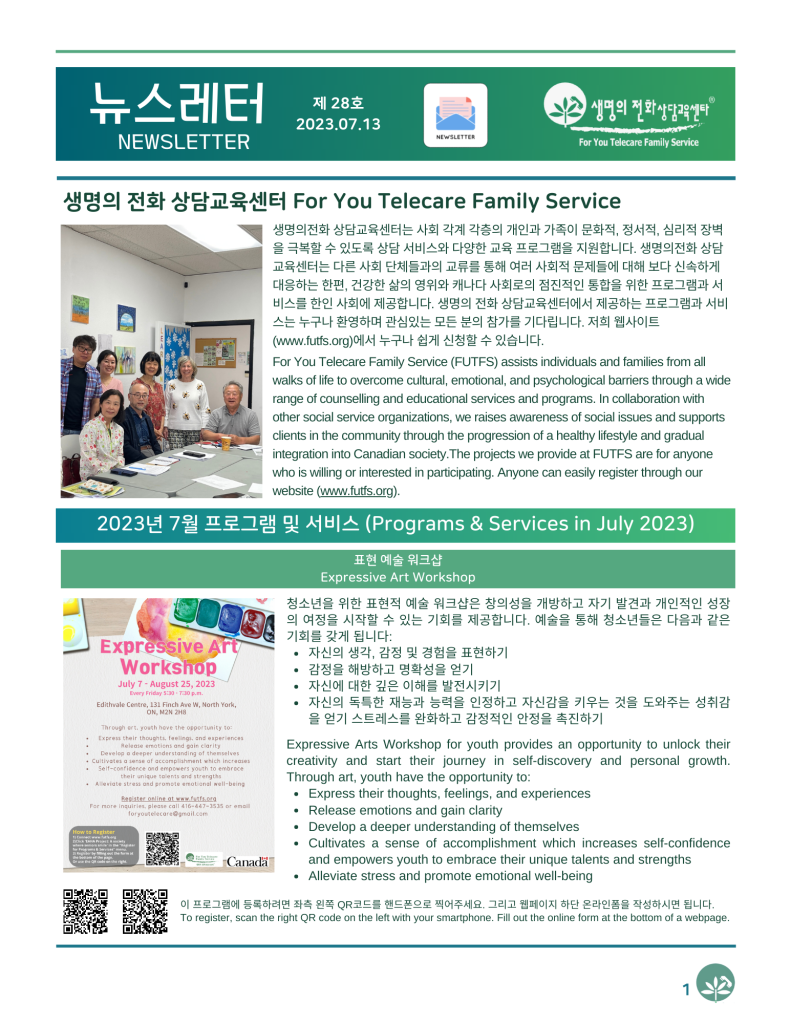 For You Telecare Family Service (FUTFS) assists individuals and families from all walks of life to overcome cultural, emotional, and psychological barriers through a wide range of counselling and educational services and programs. In collaboration with other social service organizations, we raises awareness of social issues and supports clients in the community through the progression of a healthy lifestyle and gradual integration into Canadian society.The projects we provide at FUTFS are for anyone who is willing or interested in participating. Anyone can easily register through our website (
www.futfs.org
).
Programs & Services in July 2023
1. Expressive Art Workshop
Expressive Arts Workshop for youth provides an opportunity to unlock their creativity and start their journey in self-discovery and personal growth. Through art, youth have the opportunity to:
Express their thoughts, feelings, and experiences

Release emotions and gain clarity

Develop a deeper understanding of themselves

Cultivates a sense of accomplishment which increases self-confidence and empowers youth to embrace their unique talents and strengths

Alleviate stress and promote emotional well-being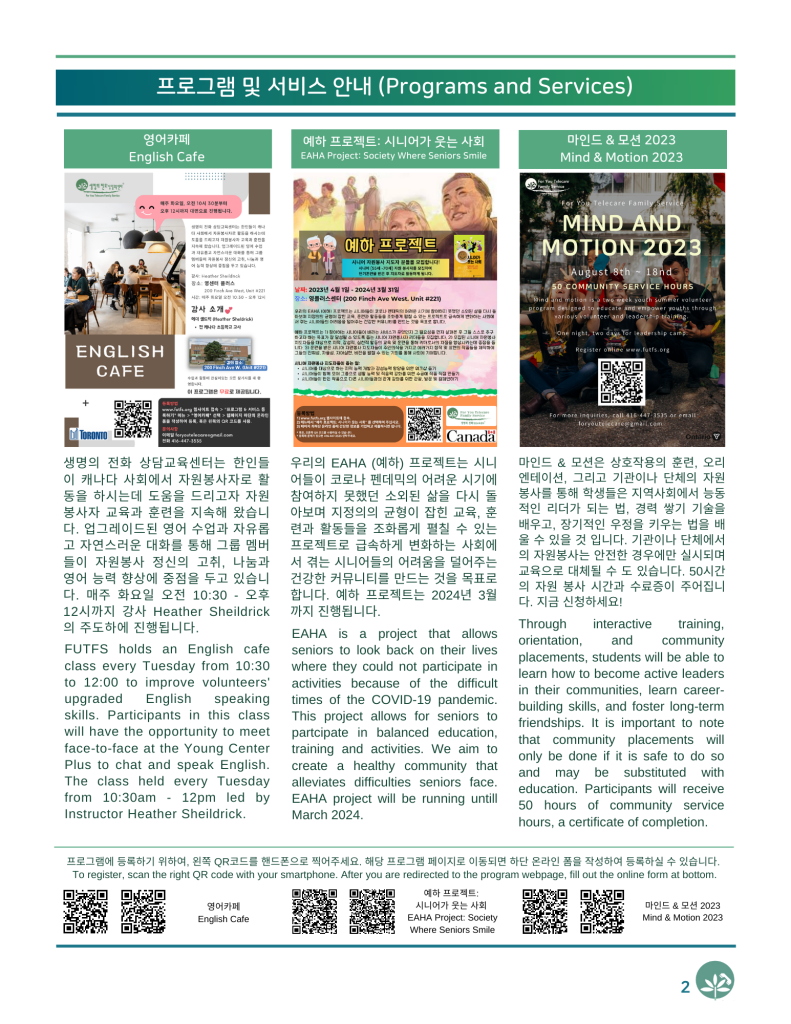 2.
English Cafe
FUTFS holds an English cafe class every Tuesday from 10:30 to 12:00 to improve volunteers' upgraded English speaking skills. Participants in this class will have the opportunity to meet face-to-face at the Young Center Plus to chat and speak English. The class held every Tuesday from 10:30am - 12pm led by Instructor Heather Sheildrick.
3. EAHA Project: Society Where Seniors Smile
EAHA is a project that allows seniors to look back on their lives where they could not participate in activities because of the difficult times of the COVID-19 pandemic. This project allows for seniors to partcipate in balanced education, training and activities. We aim to create a healthy community that alleviates difficulties seniors face. EAHA project will be running untill March 2024.
4.
Mind & Motion 2023
Through interactive training, orientation, and community placements, students will be able to learn how to become active leaders in their communities, learn career-building skills, and foster long-term friendships. It is important to note that community placements will only be done if it is safe to do so and may be substituted with education. Participants will receive 50 hours of community service hours, a certificate of completion.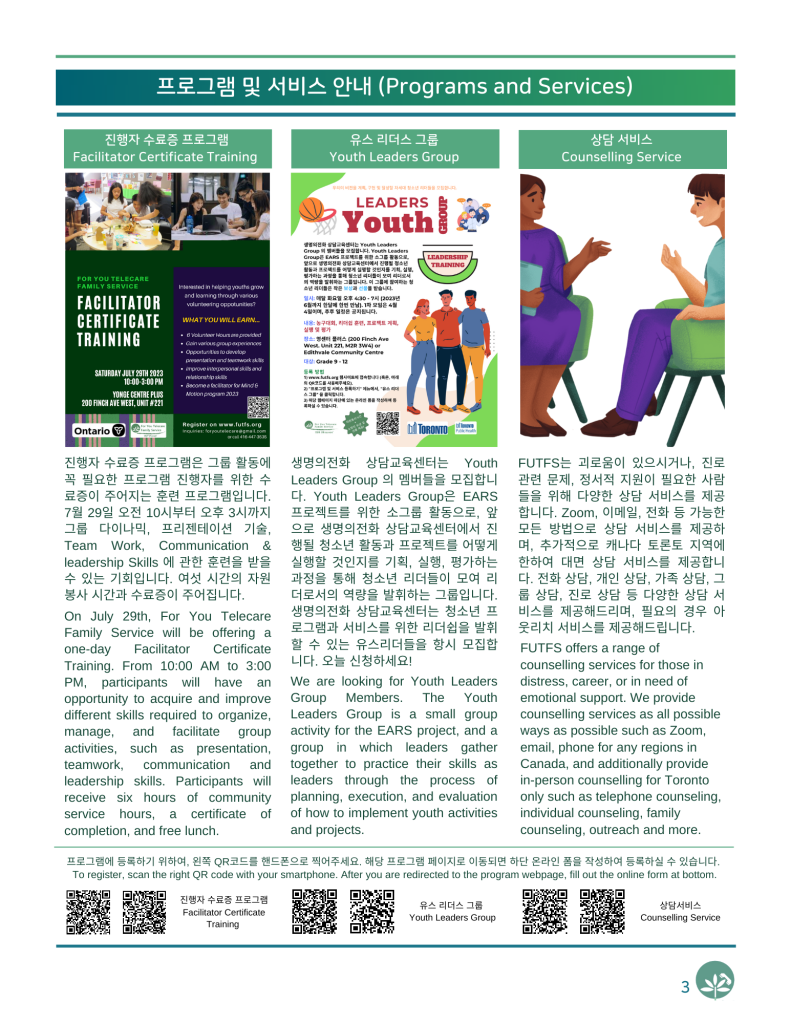 5. Facilitator Certificate Training
On July 29th, For You Telecare Family Service will be offering a one-day Facilitator Certificate Training. From 10:00 AM to 3:00 PM, participants will have an opportunity to acquire and improve different skills required to organize, manage, and facilitate group activities, such as presentation, teamwork, communication and leadership skills. Participants will receive six hours of community service hours, a certificate of completion, and free lunch.
6.
Youth Leaders Group
We are looking for Youth Leaders Group Members. The Youth Leaders Group is a small group activity for the EARS project, and a group in which leaders gather together to practice their skills as leaders through the process of planning, execution, and evaluation of how to implement youth activities and projects.
7.
Counselling Service
FUTFS offers a range of counselling services for those in distress, career, or in need of emotional support. We provide counselling services as all possible ways as possible such as Zoom, email, phone for any regions in Canada, and additionally provide in-person counselling for Toronto only such as telephone counseling, individual counseling, family counseling, outreach and more.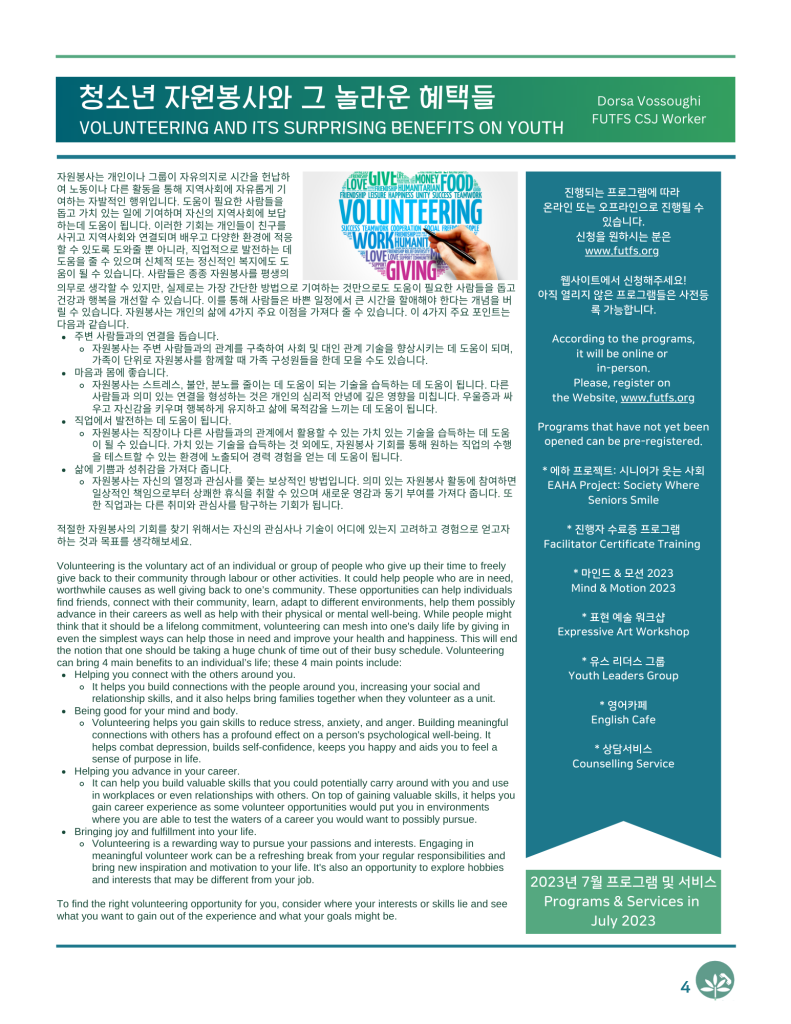 Volunteering and its surprising benefits on Youth
Volunteering is the voluntary act of an individual or group of people who give up their time to freely give back to their community through labour or other activities. It could help people who are in need, worthwhile causes as well giving back to one's community. These opportunities can help individuals find friends, connect with their community, learn, adapt to different environments, help them possibly advance in their careers as well as help with their physical or mental well-being. While people might think that it should be a lifelong commitment, volunteering can mesh into one's daily life by giving in even the simplest ways can help those in need and improve your health and happiness. This will end the notion that one should be taking a huge chunk of time out of their busy schedule. Volunteering can bring 4 main benefits to an individual's life; these 4 main points include:
Helping you connect with the others around you.

It helps you build connections with the people around you, increasing your social and relationship skills, and it also helps bring families together when they volunteer as a unit.

Being good for your mind and body.

Volunteering helps you gain skills to reduce stress, anxiety, and anger. Building meaningful connections with others has a profound effect on a person's psychological well-being. It helps combat depression, builds self-confidence, keeps you happy and aids you to feel a sense of purpose in life.

Helping you advance in your career.

It can help you build valuable skills that you could potentially carry around with you and use in workplaces or even relationships with others. On top of gaining valuable skills, it helps you gain career experience as some volunteer opportunities would put you in environments where you are able to test the waters of a career you would want to possibly pursue.

Bringing joy and fulfillment into your life.

Volunteering is a rewarding way to pursue your passions and interests. Engaging in meaningful volunteer work can be a refreshing break from your regular responsibilities and bring new inspiration and motivation to your life. It's also an opportunity to explore hobbies and interests that may be different from your job.
To find the right volunteering opportunity for you, consider where your interests or skills lie and see what you want to gain out of the experience and what your goals might be.
Dorsa Vossoughi (FUTFS CSJ Worker)