FUTFS Newsletter 25 (April 2023)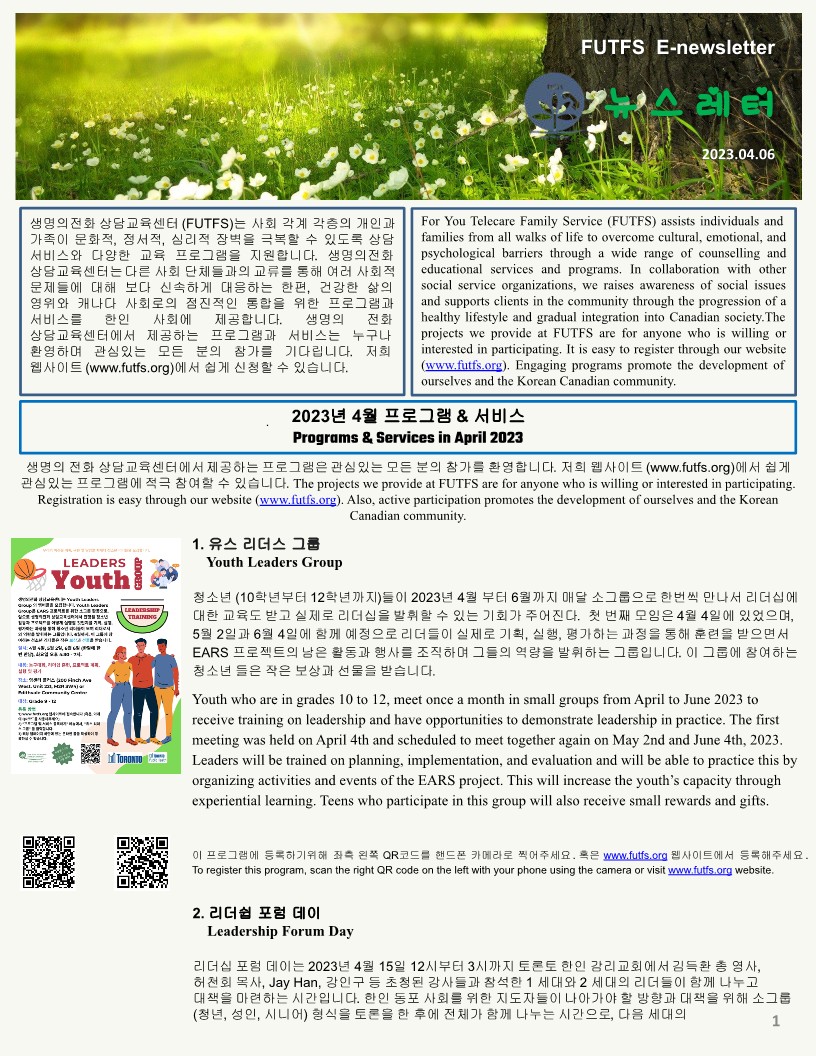 For You Telecare Family Service (FUTFS) assists individuals and families from all walks of life to overcome cultural, emotional, and psychological barriers through a wide range of counselling and educational services and programs. In collaboration with other social service organizations, we raises awareness of social issues and supports clients in the community through the progression of a healthy lifestyle and gradual integration into Canadian society.The projects we provide at FUTFS are for anyone who is willing or interested in participating. It is easy to register through our website (
www.futfs.org
). Engaging programs promote the development of ourselves and the Korean Canadian community.
Programs & Services in April 2023
The projects we provide at FUTFS are for anyone who is willing or interested in participating. Registration is easy through our website (
www.futfs.org
). Also, active participation promotes the development of ourselves and the Korean Canadian community.
1. Youth Leaders Group
Youth who are in grades 10 to 12, meet once a month in small groups from April to June 2023 to receive training on leadership and have opportunities to demonstrate leadership in practice. The first meeting was held on April 4th and scheduled to meet together again on May 2nd and June 4th, 2023. Leaders will be trained on planning, implementation, and evaluation and will be able to practice this by organizing activities and events of the EARS project. This will increase the youth's capacity through experiential learning. Teens who participate in this group will also receive small rewards and gifts.
2. Leadership Forum Day
The Leadership Forum Day was held on April 15, 2023 from 12:00 to 3:00 at the Toronto Korean Methodist Church. Invited lecturers included Consul General Kim Deuk-hwan, Pastor Heo Chun-hoe, Jay Han, Kang In-ku, and other 1st and 2nd generation leaders. This forum provided leaders the opportunity to share with the group. After discussion in the form of small groups (youth, adult, senior) for the direction and countermeasures that leaders for the Korean community should take, and it is the first start toward the development of the next generation of leadership. In addition, we plan to distribute various materials collected through research as a booklet. With this forum day provides a safe space for Korean-Canadian community to develop a cultural competence and leadership that actively demonstrates leadership by breaking away from generational conflict, which they can connect, share, and take care of each other.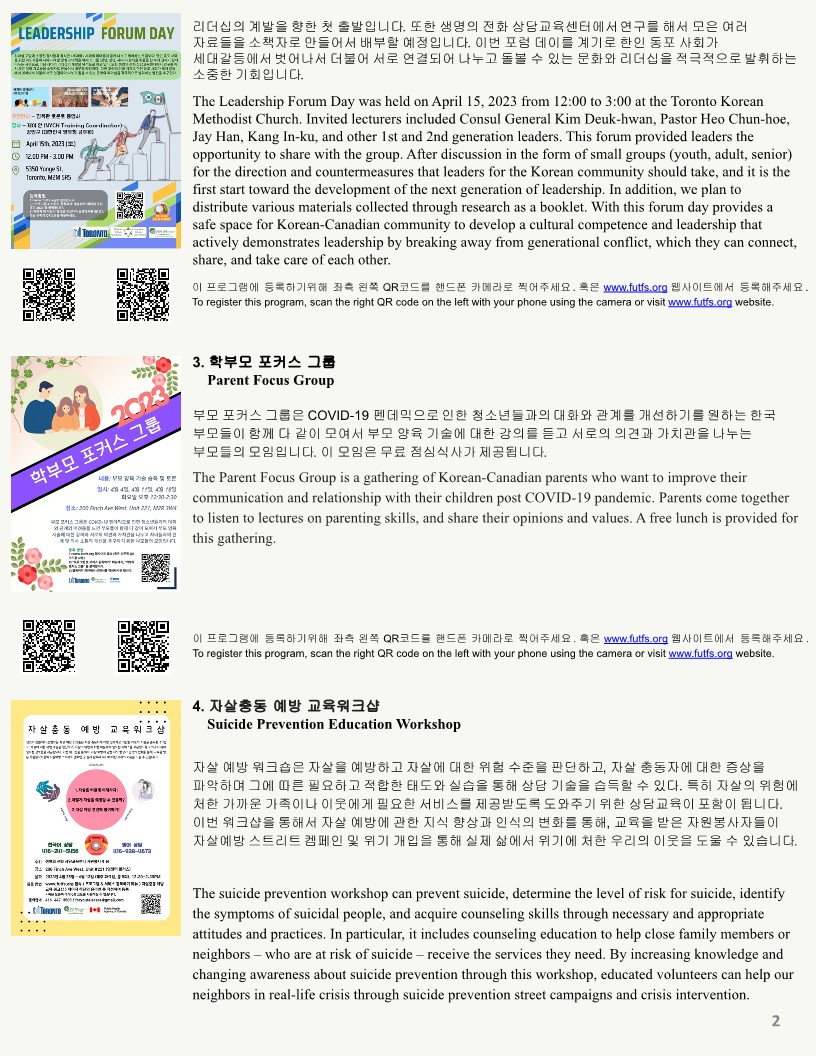 3. Parent Focus Group
The Parent Focus Group is a gathering of Korean-Canadian parents who want to improve their communication and relationship with their children post COVID-19 pandemic. Parents come together to listen to lectures on parenting skills, and share their opinions and values. A free lunch is provided for this gathering.
4. Suicide Prevention Education Workshop
The suicide prevention workshop can prevent suicide, determine the level of risk for suicide, identify the symptoms of suicidal people, and acquire counseling skills through necessary and appropriate attitudes and practices. In particular, it includes counseling education to help close family members or neighbors – who are at risk of suicide – receive the services they need. By increasing knowledge and changing awareness about suicide prevention through this workshop, educated volunteers can help our neighbors in real-life crisis through suicide prevention street campaigns and crisis intervention.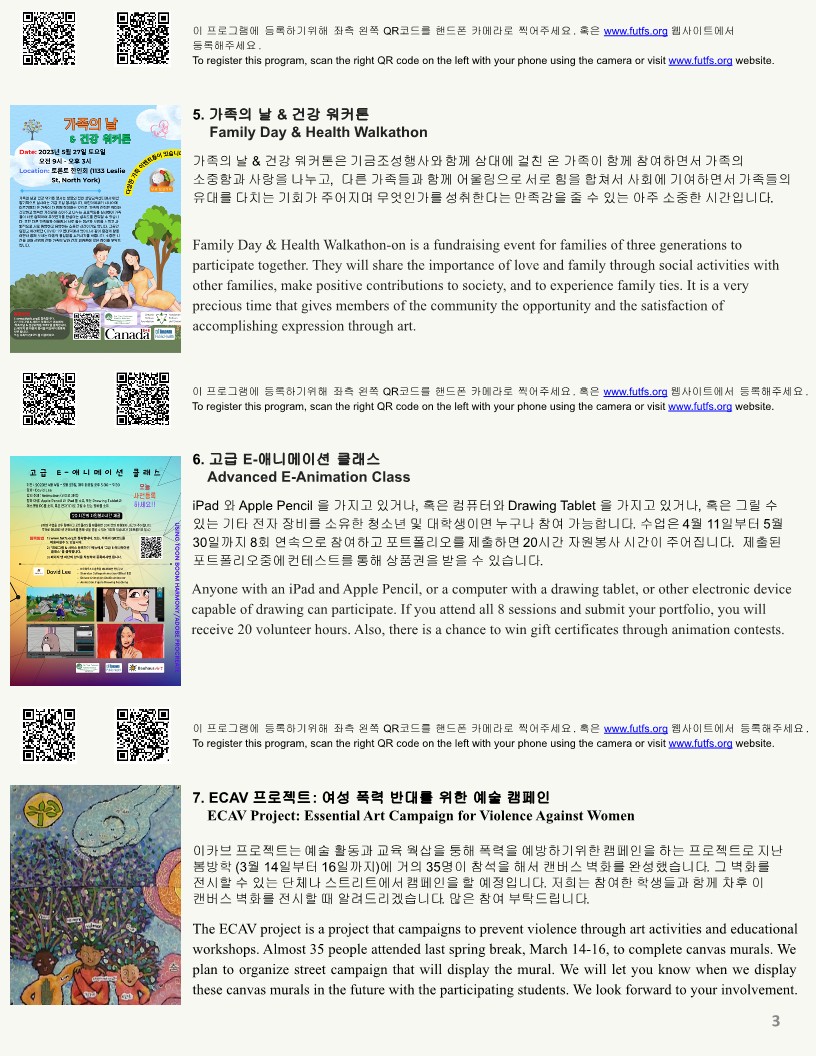 5. Family Day & Health Walkathon
Family Day & Health Walkathon-on is a fundraising event for families of three generations to participate together. They will share the importance of love and family through social activities with other families, make positive contributions to society, and to experience family ties. It is a very precious time that gives members of the community the opportunity and the satisfaction of accomplishing expression through art.
6. Advanced E-Animation Class
Anyone with an iPad and Apple Pencil, or a computer with a drawing tablet, or other electronic device capable of drawing can participate. If you attend all 8 sessions and submit your portfolio, you will receive 20 volunteer hours. Also, there is a chance to win gift certificates through animation contests.
7. ECAV Project: Essential Art Campaign for Violence Against Women
The ECAV project is a project that campaigns to prevent violence through art activities and educational workshops. Almost 35 people attended last spring break, March 14-16, to complete canvas murals. We plan to organize street campaign that will display the mural. We will let you know when we display these canvas murals in the future with the participating students. We look forward to your involvement.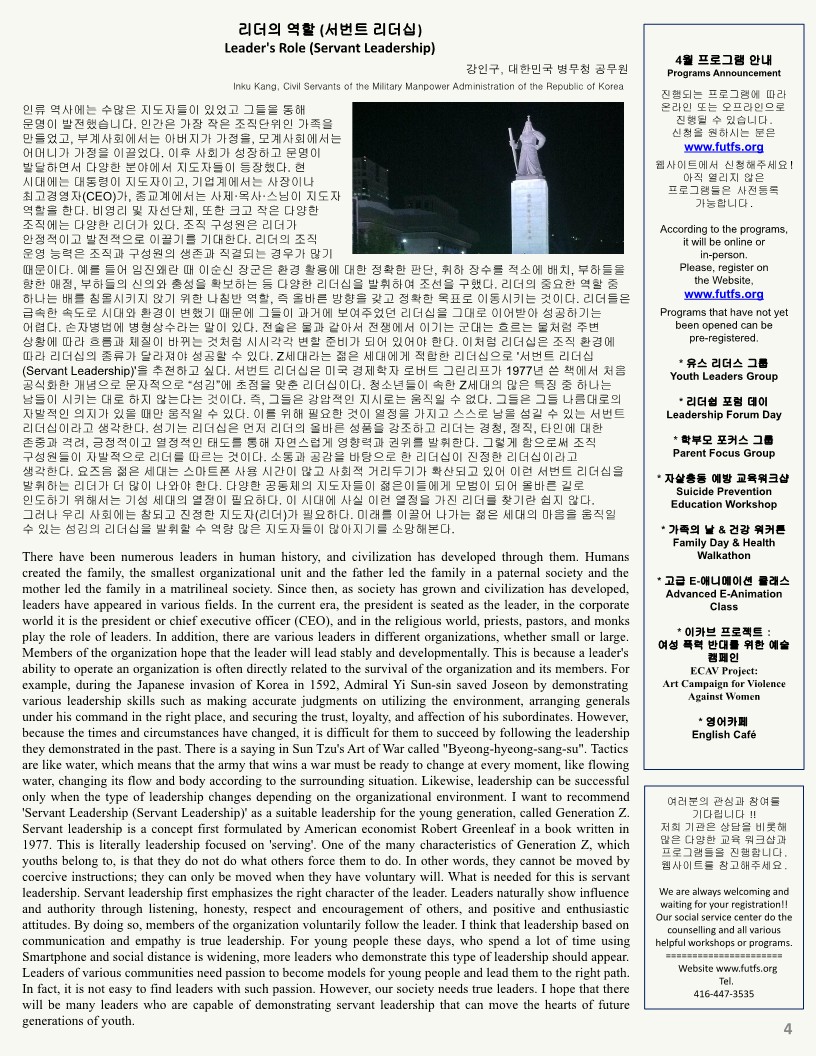 Leader's Role (Servant Leadership)
There have been numerous leaders in human history, and civilization has developed through them. Humans created the family, the smallest organizational unit and the father led the family in a paternal society and the mother led the family in a matrilineal society. Since then, as society has grown and civilization has developed, leaders have appeared in various fields. In the current era, the president is seated as the leader, in the corporate world it is the president or chief executive officer (CEO), and in the religious world, priests, pastors, and monks play the role of leaders. In addition, there are various leaders in different organizations, whether small or large. Members of the organization hope that the leader will lead stably and developmentally. This is because a leader's ability to operate an organization is often directly related to the survival of the organization and its members. For example, during the Japanese invasion of Korea in 1592, Admiral Yi Sun-sin saved Joseon by demonstrating various leadership skills such as making accurate judgments on utilizing the environment, arranging generals under his command in the right place, and securing the trust, loyalty, and affection of his subordinates. However, because the times and circumstances have changed, it is difficult for them to succeed by following the leadership they demonstrated in the past. There is a saying in Sun Tzu's Art of War called "Byeong-hyeong-sang-su". Tactics are like water, which means that the army that wins a war must be ready to change at every moment, like flowing water, changing its flow and body according to the surrounding situation. Likewise, leadership can be successful only when the type of leadership changes depending on the organizational environment. I want to recommend 'Servant Leadership (Servant Leadership)' as a suitable leadership for the young generation, called Generation Z. Servant leadership is a concept first formulated by American economist Robert Greenleaf in a book written in 1977. This is literally leadership focused on 'serving'. One of the many characteristics of Generation Z, which youths belong to, is that they do not do what others force them to do. In other words, they cannot be moved by coercive instructions; they can only be moved when they have voluntary will. What is needed for this is servant leadership. Servant leadership first emphasizes the right character of the leader. Leaders naturally show influence and authority through listening, honesty, respect and encouragement of others, and positive and enthusiastic attitudes. By doing so, members of the organization voluntarily follow the leader. I think that leadership based on communication and empathy is true leadership. For young people these days, who spend a lot of time using Smartphone and social distance is widening, more leaders who demonstrate this type of leadership should appear. Leaders of various communities need passion to become models for young people and lead them to the right path. In fact, it is not easy to find leaders with such passion. However, our society needs true leaders. I hope that there will be many leaders who are capable of demonstrating servant leadership that can move the hearts of future generations of youth.
Inku Kang, Civil Servants of the Military Manpower Administration of the Republic of Korea